Active Beaconing RFID Tag has tracking range of 98 ft.
Press Release Summary: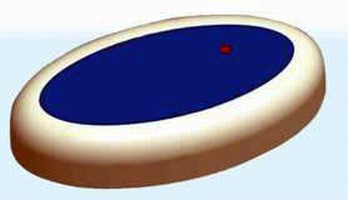 Suited for asset locating and tracking and warehouse inventory management applications, 2.4 GHz active beaconing RFID tag has LED that flashes when tag receives specific signal from RFID reader. Featuring tamper-proof alarm that sounds if tag is dislodged, it can be mounted on metal and operates in harsh environments. It offers 100 tag/sec identification rate, 2,000 tag management in RF field, bi-directional reader communication, and transmits ID every 2 sec.
---
Original Press Release:

GAO Introduces Innovative and Cost-Effective Active Beaconing RFID Tag



Toronto, Canada - GAO RFID Inc. introduces a new 2.4GHz active beaconing RFID tag. This tag is especially useful in asset locating and tracking and warehouse inventory management. Because it is active, it is able to provide tracking with a long-reach of 30 meters (98 feet). The tag's built-in LED will flash, or 'beacon', once the tag receives a specific signal from a nearby RFID reader, allowing the user to locate the asset attached with the beaconing tag.

This innovative RFID Tag is also designed to be tamper proof and sounds an alarm if someone tries to dislodge it. There is a tiny button on the bottom of the tag. When a user applies the tag to the asset, the button is pushed in and the tag will transmit a "normal" signal. If the tag is peeled off, the button will pop up and the tag will send an "alarm" signal to indicate abnormal status.

GAO's active beaconing RFID tag provides the following features:
o Excellent for mount on-metal applications
o Reliable RF signal and communication over a long distance even in harsh environments
o Tamper-proof with alarm
o 2.45GHz microwave frequency
o 100-tag/s identification rate, 2,000 tag management in RF field
o Transmits ID every 2 seconds
o Reader communication is bi-directional, providing two commands: Addressing Command and Stop Addressing Command.

For more information on the product, please contact sales@GAORFID.com., or visit http://www.gaorfid.com/index.php?main_page=product_info&products_id=740

About GAO RFID Inc.

GAO RFID Inc. is a leading provider of Radio Frequency Identification (RFID) hardware and solutions to end users worldwide. GAO RFID combines best of breed with low cost RFID readers, RFID tags and enabling-RFID software. We have a wide variety of RFID readers, tags and antennas in all the RFID technologies, Low Frequency (LF), High Frequency (HF), Ultra High Frequency (UHF, Gen 2) as well as Active and Semi-Passive. GAO RFID's products and services are easily customized for use in Asset Tracking, Health care, Supply Chain & Logistics, Event Management, Access Control, Livestock Tracking, Inventory Control & Management, Field Service, Maintenance and Document Authentication.

For more information please visit www.GAORFID.com Contact GAO RFID Inc.
(416)-292-0038

More from Material Handling & Storage