Acrosser Technology and ADVA Join Forces to Deliver NFV-Based Information Security Solutions Across the APAC Region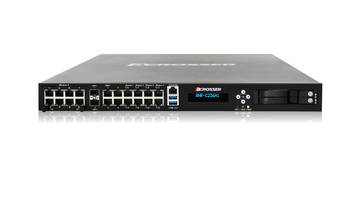 Taipei City, Taiwan, R.O.C. – July 30th, 2018 – With the rise of the digital lifestyle – the rapid evolution toward all electronic communication and commerce – we are seeing a comparable rise of security threats that take advantage of the ubiquitous connectivity being offered. These security threats are not contained to individuals but rather these threats also exist for small businesses, large enterprises and even government entities. The threats posed by these security breaches include data loss, financial losses and compromised secrets, which may have far reaching impacts from business competitiveness to national security.
One example of the importance of cyber security is the recent actions of the government of Taiwan. In June of 2017, President Tsai Ing-wen of Taiwan instituted the Information Communication Electronic Force Command (ICEF) and declared that "cyber security is national security." Today, the primary cyber security threat to Taiwan is from Advanced Persistent Threats (APTs), which can originate from a multitude of sources including state actors, in order to conduct cyber espionage on Taiwanese government agencies and critical corporate infrastructure targets. In a recent cyber security survey, Taiwan ranked second in Asia in terms of the quantity of unique APT malicious software attacks.
In response to the call for action from the Taiwan government, Acrosser Technology and ADVA have teamed up with other local vendors to provide a virtualized security solution based on Acrosser's industry leading network appliances and ADVA's industry leading, NFV-based secure access solutions. As part of this solution, Acrosser Technology and ADVA have verified interoperability between the Acrosser ANR-C236N1 networking appliance and ADVA's Ensemble Connector network operating system. Acrosser has also joined the ADVA Ensemble Harmony ecosystem as a hardware partner (please see https://www.advaoptical.com/en/about-us/partners/ensemble-harmony-ecosystem for more information on ADVA's Ensemble Harmony Ecosystem).
A key benefit of the virtualized network security solution is that by leveraging a universal CPE (uCPE) deployment model, users have the ability to apply security and encryption solutions in a modular, cloud native fashion, which supports multiple deployment models including point-to-point, hub and spoke, as well as secure hybrid cloud access. With ADVA's secure access solutions, users can dynamically enable encryption at layers 2, 3 or 4 depending on requirements of the application. ADVA's solution provides an efficient encryption solution that minimizes required processing and network overhead.
As part of this partnership, Acrosser and ADVA jointly performed live demonstrations of the solution to Taiwan government and military officials in an event held in Hsinchu, Taiwan in November of 2017. The demonstration was well received by the government and military members in attendance. Acrosser is convinced that its high quality networking appliance combined with ADVA's industry leading network virtualization software offer a unique NFV-based information security solution to support the information security requirements defined by the Taiwan government.
In addition to the application of information security, the NFV based solution is also possible to perform SD-WAN, CCTV surveillance, WAN acceleration, WAN optimization… vary virtual network functions in this agile & scalable platform. Acrosser networking server & Ensemble ensure the networking architecture to meet the demand of growing business of customer in a smooth way.
About Acrosser Technology
Acrosser Technology is a global pioneer in the evolution of industrial computing, had committed its valuable resources to further develop its networking appliance product lines. Because of these efforts, Acrosser Technology not only provides products with high reliability and availability, but also network appliance with the best scalability and manageability in the industry. Acrosser Technology is your best choice for building network applications. For more information, please visit us at www.acrosser.com
About Ensemble, a division of ADVA Optical Networking
ADVA Optical Networking is a company founded on innovation and driven to help our customers succeed. For over two decades, our technology has empowered networks across the globe. We're continually developing breakthrough hardware and software that leads the networking industry and creates new business opportunities. It's these open connectivity solutions that enable our customers to deliver the cloud and mobile services that are vital to today's society and for imagining
Contact:
Kevin Chan
Marketing Department Section Manger
More from Waste Management & Waste Handling Equipment