Acoustical Panels serve double function.
Press Release Summary: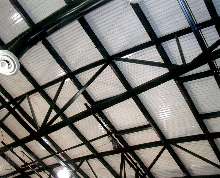 Panels function simultaneously as self-supporting roof deck and acoustical ceiling. Crimp-curving method can custom curve perforated steel B deck or N deck panels in 22 to 18 ga and depths of 1½-3 in. without fracturing panel surface or altering acoustical performance. Process creates subtle crimp that is aesthetically pleasing with perforations that cannot be seen from below. Nestable B deck panels may be formed into triple-radius curves or S shapes for sine-wave effect.
---
Original Press Release:

Custom-Curved Metal Panels Provide "Two-in-One" Performance as Roof Deck & Acoustical Ceiling


Ontario, Calif., May 2003 - Curveline, Inc., which specializes in a patented method for curving profiled metal panels, can now produce custom-curved acoustical panels that provide economical "two-in-one" performance, functioning simultaneously as a roof deck and an acoustical ceiling.

Use of the Curveline process can eliminate the need to use a separate roof deck and paneled acoustical ceiling, bringing significant construction economies. In addition, project designers may now use domes and arches where flat ceilings were previously required and still achieve the desired acoustical characteristics. Applications include gymnasiums and sports arenas, retail stores and malls, airports and transportation centers, dining pavilions, schools, hospitals, libraries, industrial plants and other large facilities where sound control is of concern.

Using its patented "crimp-curving" method, Curveline can curve perforated steel "B" deck or "N" deck panels in 22 to 18 gauge and depths of 1-1/2" to 3", without fracturing the panel surface or altering the acoustical performance of the panel. The Curveline process creates a subtle crimp that is aesthetically pleasing to most designers. The perforations that give the panel its acoustical performance, however, are too small to be visible from below. Curved ceiling designs (such as a series of arches) may even enhance the sound-absorbing qualities of the space. Nestable "B" deck panels may also be formed into triple-radius curves or "S" shapes for a sine-wave effect. Users may select panels from a list of leading decking manufacturers around the country.

In addition to their acoustical benefits, the curved metal panels form a self-supporting deck that is extremely strong and brings additional construction economies. By using crimp-curved decking installed "against the grain" instead of straight panels applied "with the grain", 15-20 percent longer spans are often achievable for reduced framing costs. Also, because curving increases the strength of the panel, it is often possible to select a lighter and more economical panel - for example, 20-gauge instead of 18-gauge.

For further information, contact: Curveline, Inc., 1745 E. Monticello Court, Ontario, CA 91761; phone (888) 998-0311 or (909) 947-6022; fax (909) 947-1510; e-mail curveline@curveline.com; Web www.met-tile.com/curveline.

More from Thermal & Heating Equipment