Acoustical Panels are manufactured with recycled material.
Press Release Summary: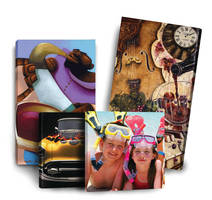 SonicPrint ProPanels are designed using EcoTech acoustic products that are manufactured with 65% recycled polyester fibers. Fabric-covered acoustic absorptive panels are available in unfaced, white versions or with black scrim face. They can feature custom printing specified via online portal, where users can upload personal photography, corporate logos, or other custom images, or select from library of images and design options.
---
Original Press Release:

Auralex's SonicPrint Goes Green at Infocomm 2009



SonicPrint Designs Now Available on Environmental EcoTech ProPanels

ORLANDO, FL, MAY 12, 2009 - Auralex Acoustics, the industry leader in innovative sound control solutions, is now offering its custom-printed, artistic SonicPrint ProPanels manufactured with its first green acoustical panel, EcoTech, at InfoComm 2009 (Booth 5278). SonicPrint features "The Art of Sound" theme by blending unlimited design and style options for any room with the company's acoustically proven technology of its green ProPanel product line, EcoTech.

SonicPrint custom-printed, artistic ProPanels are fabric-covered acoustic absorptive panels designed as artwork. This exclusive offering opens the door to numerous decor options, as the acoustical panels are camouflaged under the design of the customer's choice. Users are no longer limited to single color fabric choices, and can now outfit any space with paintings and drawings of any kind.

EcoTech brand acoustic panels are manufactured with a proprietary formulation of 65% recycled polyester fibers. EcoTech panels are truly "green"; reducing the ecological footprint of acoustic treatment and our dependence on fossil fuels, including foreign crude oil. The EcoTech family of products is designed with the environment in mind, yet retains the longevity and acoustical properties for which Auralex is known.

The new EcoTech acoustical panels will begin to replace the substrates of many of Auralex's current panel products, including ProPanels, T-Coustic ceiling tiles and the ELiTE(TM) Custom Fabric System. The panels are easy to work with and will be available both unfaced (white) and with a black scrim face. There is no increase in cost to either the dealer or consumer. The new offering meets and exceeds the quality of product and testing data (acoustical and fire) that the professional consumer demands.

"As we continue our ongoing green initiatives at Auralex, offering SonicPrint with our new EcoTech recycled substrate was a natural progression," says Dave Paxton, director of operations at Auralex Acoustics. "We are moving towards making all of our panel products 'green' by the end of this year through the use of EcoTech versus our standard fiberglass panels. While the fiberglass panels will still be available, we hope that our consumers prefer the new greener polyester panels, as they offer the same acoustical properties at a lower cost."

Auralex Acoustics' new dedicated micro-site, www.auralex.com/sonicprint, is an online portal and direct way for dealers to place orders for the company's SonicPrint custom ProPanels. Users can upload their own personal photography, corporate logos or other custom images to be printed on the SonicPrint acoustical panels. The site offers Auralex's entire library of images and design options available for SonicPrint. The gallery is divided into several categories for easy browsing and convenient ordering. Categories include artistic/textures, aquatic/animals, children, cultural, flowers/nature, food/beverage, historic/vintage, humor, independent artists, performing arts, motivational, movies, music, scenic and sports. As an added value, the site features Auralex's noted Free Room Analysis Form, an installation guide and design and application ideas.

About Auralex Acoustics, Inc.

Located in Indianapolis, Auralex Acoustics was founded in 1977 with a mission to provide top-performing acoustical treatment products at the best value. Since then, thousands of satisfied Auralex customers have experienced improved acoustics, expert advice and exceptional customer service. Auralex products enjoy widespread use among prominent artists, producers, engineers, corporations, celebrities and government agencies.

Auralex Acoustics has become the industry leader in innovative sound control solutions and continues to enjoy rapid growth through an international network of authorized dealers. Visit the Auralex Web site at www.auralex.com. Auralex can be reached via email at [email protected] or by calling 1.800.959.3343.