Acoustiblok® Lands Solution to Noise at San Bernardino Airport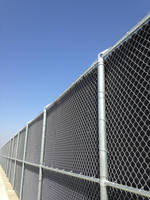 Acoustiblok was recently contacted on an outdoor noise problem at the San Bernardino Airport in San Bernardino, California. A large section of the airport perimeter fence was installed with Acoustiblok's Outdoor Noise Barrier, Acoustifence® (pat. pend.). The installation was done by Crown Fence Company for GQ Aviation Engineering; GQ disassembles aircraft for aircraft parts and components and also repairs them, and needed something to reduce the overall noise created in the process.



Luis Vasquez, the project manager for Crown Fence, along with Hector Vasquez, the foreman headed up the team for the construction of the large section of fence requested by GQ. A double chain linked fence was recommended by Acoustiblok and mounted by Crown. The black shade of Acoustifence (also available in green, and made and sourced in the U.S.) outdoor barrier material was installed after the first fence was erected. With Acoustifence's grommets and stainless steel ties the task was relatively easy and went quickly. Once Acoustifence was in place the second fence was put in position. The double fence gave extra security and can easily withstand high winds and also keeps out blowing sand, dirt and dust.



Luis said, "The client was very happy. The fence was easy to install and my Acoustiblok consultant was knowledgeable and helpful. We highly recommend Acoustifence for outdoor noise and are going to be installing more at the San Bernardino Airport for the second phase of the project."



San Bernardino Airport

Located on the former site of Norton Air Force Base which closed in 1995, San Bernardino International Airport is located about two miles east of downtown San Bernardino and 14 miles northeast of downtown Riverside. The airport has continued to grow over the years; airport tenants include aircraft-maintenance in the large hangars, a fueling operation and the San Bernardino County Sheriff's Air Center that will include offices and facilities for both fixed-wing and helicopter aircraft. In addition, two new state-of-the art terminals were recently constructed one for domestic flights and the other for international.



The area surrounding the airport has attracted new businesses as well. There are now warehouses and fulfillment centers, companies such as Stater Bros., Kohl's and Amazon.com, Pep Boys, Pepsi, and Mattel. With all the business and traffic comes additional noise and noise complaints. In addition to its sound barrier properties, Acoustifence also increases privacy, and stops dirt and debris from blowing into the work area.



"When performing operations such as what GQ Aviation Engineering does, there are local noise and vibration ordinances that businesses must adhere to and while they may not required to put up an acoustical fence unless they exceed the allowable limits, often times they make the decision to install a noise barrier fence to keep noise at a minimum to keep good relations with the surrounding community of residential homes and businesses; they want to be good neighbors," said Lahnie Johnson, president and founder of Acoustiblok Inc.



About Acoustifence

Acoustifence is a modern day outdoor acoustical abatement product developed by Tampa, Florida-based Acoustiblok, Inc. This unique fencing noise barrier is 1/8th inch, heavy mineral filled, barium-free viscoelastic acoustical material that is placed between the noise source and the noise. The material easily attaches to various types of fences and comes in large sections that can be layered, as well as custom made sizes making it an ideal fence application to reduce noise for almost any outdoor project. Acoustifence is extremely strong and was engineered to withstand harsh outdoor environments such as airports and highway environments. Full exposure to dirt, grease, oil, mold or even being driven over is not a problem for the Acoustifence.



"In addition to being a sound barrier, Acoustifence can also help reduce the amount of sand/dust that would otherwise blow through a chain link fence. Acoustifence has the qualities many customers are looking for in a modern outdoor acoustical sound barrier fence. They want a 'green' and 'sustainable' noise barrier product that is easy to install, and with a company with a good reputation in the industry. Acoustifence has all those qualities and the sound transmission loss (STL) performance needed to do the job. It's also 100 percent recyclable," said Johnson.



"The fencing industry is starting to see the importance of utilizing Acoustifence sound barriers on projects where outside noise is a concern," he said. "Acoustifence has proven performance and is easily suspended from a chain link fence, eliminating the need for expensive permitting or structural requirements. Any height can be obtained by simply overlapping the sections. To store, Acoustifence sections simply roll up like carpet into less than a 12-inch diameter. Independent lab tests of the US made and sourced Acoustifence material has a sound transmission classification (STC) of 28, which represents to the human ear an approximately 85-percent sound reduction. However, results in the field will be less, relative to surrounding sound reflective objects such as buildings or trees and the amount of Acoustifence installed," Johnson said.



Other Applications for Acoustifence

Acoustifence has proven performance in diverse outdoor noise applications from highway environments, high speed rail environments, construction sites, ecological/environmental sites, offshore oil rigs, residential homes to waste-to-energy plants. It can accommodate any height fence or structure by simply overlapping the sections. Where high temperature noise solutions are required, Acoustifence can be used with Thermablok® aerogel.

Acoustiblok, Inc. also has available high quality landscape attachments which fit directly over the Acoustifence to provide a realistic landscape appearance. These are actual UV resistant HD photos printed on 30' x 6' PVC sections. A variety of landscape attachments are available to choose from, including floral gardens, green meadows, English garden walls, and other scenic illustrations to blend into any natural backdrop or enhance an unfinished yard or property. So realistic in appearance, one client said she drove around the block three times before remembering they put the Acoustifence "red brick wall" landscape in front of their house the day before.

About Acoustiblok – "Quieting the World"



The Acoustiblok Corporation, a NASA Spinoff listed company, has received top awards in the British House of Commons and has been featured throughout the world on National Geographic TV for its unique contributions towards reducing noise pollution. Acoustiblok also manufactures and markets such innovative products throughout the world. Appropriately, the company's catchphrase is, "quieting the world."



Primary products include Acoustiblok® viscoelastic polymer based soundproofing material, Acoustifence® outdoor acoustical fence, All Weather Sound Panels®, QuietFiber® hydrophobic insulating material, Quiet-Cloud® industrial sound absorption panels, and Acoustiblok Wall-Cover®, post-construction soundproofing material. Acoustiblok products are used in industrial, residential, commercial, and marine sectors worldwide. The company's products are all made and sourced in the United States.



Acoustiblok Inc. ships products to more than 50 countries through a network of stocking distributors in the United States, on five continents across the globe. http://www.acoustiblok.com



About Crown Fence Company

Crown Fence Company is one of the fence pioneers of Southern California. Started back in 1923 with state license # 1315, and has one of the oldest active licenses in the state.Today Crown is a major fence contractor serving all of California, with approximately 130 employees, operating in Santa Fe Springs on a six acre facility to accommodate the ample shop, field operations and office space for all of its employees. Inventories maintained typically contain over 4 million pounds of steel fence materials. Job size range from multi-million dollar projects to half day fence gate repairs. For more information: http://www.crownfence.com or call 562-864-2529.



More from Machinery & Machining Tools