Ace Paper Tube Introduces Application Specific Custom Paper Paint Masks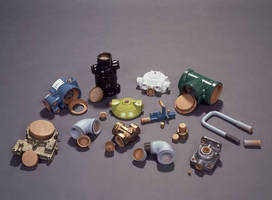 Cleveland, OH – Ace Paper Tube today announced the manufacture of a custom application specific paper paint mask, designed in this case, specifically for an automotive company.



Ace Paper Tube created custom tooling for this rarely made paper paint mask, a paper cup with a custom punched center hole, to serve as a paint mask that isolates a specific area to be finished.



Paper masks are designed to increase efficiency over the standard practice of manual taping of components to be selectively finished.



Unlike the majority of paint masks that are made of silicon or silicon rubber and are not biodegradable, paper paint masks are safe for landfills and easily recycled.



"We have the experience and know how to solve problems for customers who demand custom products, short lead times, a high level of customer service," said Norm Hensley Jr., Ace Paper Tube Purchasing & Marketing Manager.



"Ace Paper Tube is flexible and willing to embrace the challenges of designing and manufacturing paper tube products with unique characteristics for use in custom applications," he added.



Although this particular custom cap is used in an automotive application, Ace Paper Tube products can be applied to any manufacturing operation that requires selective coating, plating or painting and is considering more efficient masking to increase productivity.



About Ace Paper Tube

Ace Paper Tube is a third generation family owned business that is a custom manufacturer of paper tubes, cores, mailing & shipping tubes, paper closures, composite cans & containers, custom & precut cores and specialty tubing.



We are committed to customer service and have stood behind our products for over 40 years. We provide fast lead times, low minimums, no set up costs, custom tooling, aggressive pricing, JIT, custom printing & labeling, package design, short runs and special delivery options.



More from Health, Medical, & Dental Supplies and Equipment