Miscellaneous Cutting Services
Ace Anodizing's New Cutting Capabilities Improve Throughput
Press Release Summary: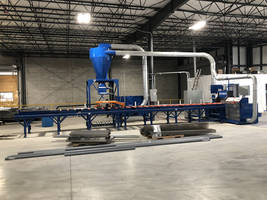 Ace Anodizing announces new cutting capabilities for production cutting of bars and extrusions to close tolerances. The process results in better sawing accuracy and throughput using a precision cutback saw system. Ace can cut materials up to 8 in. high, 24 in. wide, and 24 in. long.
---
Original Press Release:
Ace Adds New Cutting Capabilities
Hillside, Illinois (Nov 2018) – Ace Anodizing & Impregnating, Inc. is proud to announce the addition of new and increased cutting capabilities. Ace added a Precision Cutback Saw System designed for production cutting of bars or extrusions to close tolerances. The system uses a computer controlled back–gauge for accurate sawing performance and improved throughput.
"This is another example of Ace responding to the expanding needs in the marketplace. Whether it is new finishes, equipment or additional value-added services, Ace continues to focus on the needs of its clients. It is part of our strategic, customer driven focus," said Mike Battaglia, VP of Sales & Marketing for Ace.  Ace can now cut material 8" high, 24" wide and up to 24' long providing more turn-key services for their customers.
Ace's capabilities include anodizing services, chromate conversion, powder coating services and resin impregnation.   Ace is ISO 9001:2015 certified and provides quick turns at competitive prices and can handle parts up to 282" long.
Ace is headquartered in Hillside, Illinois.
Please visit www.acemetalfinishing.com for more information or call:
Michael Battaglia
Vice President Sales and Marketing
mike@acemetalfinishing.com
Telephone: 708-547-6680    
Related