Accuracy and Surface Integrity First and Foremost on Fixturing Tables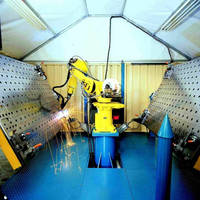 Accuracy and surface integrity is the key asset which has seen Leussink's Demmeler fixturing tables gain increased market share over less-technical, cheaper imitations.



In particular, where large work pieces are involved, only high levels of edge accuracy can provide tight tolerances across multiple tables that are joined together.



They have quickly seen uptake in many fabrication plants serving most industries including construction, mining, public works, agriculture, energy and offshore as well as foundries and general factories.



Without this respect for tolerances, according to Director Jason Leussink, there is likely to be a gap between two edges of joined tables when they are butted up against each other.



"This will create a production slowdown and risk accuracy of the finished job piece and this is the biggest reason why any fixturing table, whether entry level or top shelf, should be highly accurate," said Mr Leussink.



"Durability is also a key element as any investment of this type is viewed as a capital equipment asset and it must perform under heavy duty cycles and very hot processes such as welding."



One industry standard attained by Leussink's demmeler tables is hardness of body. Seeing that the majority of alternatives to old fashioned flat bed tables are made of treated steel that is a little too brittle for long term use, Leussink's demmeler range is treated specifically to provide a level of softness that minimises potential for chips, grooves and scratches.



Leussink's Demmeler tables are also supplied with a specially sprayed working surface and edges to prevent weld spatter from sticking to it.



In the very rare case weld spatter does stick, it is simple to remove by rubbing back the surface with a honing stone, therefore longer table integrity for years.



Even the demmeler clamping systems are supplied with a 5mm wall thickness, as opposed to 2mm thickness which is common across the industry. In addition, there is a patented bolter.



Leussink's demmeler table bolts are engineered to totally minimise damage to the table, as its industry analysis saw other equipment often uses bolting systems that damage the table or the holes in the table.



More from Mechanical Power Transmission