Accumulator Manifold targets pilot circuit applications.
Press Release Summary: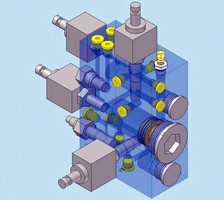 Integrated Accumulator Manifold (IAM) design integrates piston-type accumulator directly into aluminum manifold, making manifold itself an accumulator. Approach effectively incorporates accumulator, pilot circuit, and switching valve circuit into compact, fully integrated unit. IAM design can accommodate up to 1,000 psi operating pressure and features up to 20 cu in. displacement. It is suited for use on front-end loaders, backhoes, skid steers, aerial and man lifts.
---
Original Press Release:

New Integrated Accumulator Manifold Design from Parker Saves Space, Increases Reliability Over Diaphragm Accumulators



ROCKFORD, IL - February 1, 2007 - Parker Hannifin's Hydraulic Accumulator Division introduces the Integrated Accumulator Manifold (IAM) to replace diaphragm accumulators in pilot circuit applications. To save space and reduce gas permeation over traditional diaphragm/manifold designs, Parker's new IAM design integrates a piston-type accumulator directly into an aluminum manifold, making the manifold itself an accumulator. This approach effectively incorporates the accumulator, pilot circuit and switching valve circuit into a single, compact, fully integrated unit.

Parker's IAM design can accommodate up to 1,000-psi operating pressure and features up to a 20 cubic inch displacement. It is ideally suited for use on front-end loaders, backhoes, skid steers, aerial and man lifts.

In this type of equipment, hydraulic accumulators are used to provide emergency power to pilot the directional control valve in the event of an engine failure that suspends a load in the air. Traditionally, these accumulators consist of a rubber diaphragm accumulator, usually about 4-inches in diameter, attached to an aluminum manifold of about the same size.

Parker's IAM design cuts the size of this critical component almost in half by making the manifold itself into an accumulator. A chamber within the manifold houses a piston, which separates the pressurized gas from the stored hydraulic fluid. Should there be an engine failure, energy in the form of pressurized fluid is discharged into the system and used to pilot the directional control valve.

User value-added benefits include reduced plumbing (reduced cost and leak points), and reduced mounting (installation labor, hardware, hosing, fittings and the potential for assembly errors). And, by using a piston in place of the rubber membrane of a diaphragm accumulator, the IAM design also eliminates the potential of gas permeation to significantly increase the accumulator's reliability.

To ensure correct fit and function, all Parker Integrated Accumulator Manifold's are custom engineered for each OEM application. For additional information, contact an applications engineer at Parker Hydraulic Accumulator Division in Rockford, IL at (815) 636-4100.

About Parker Hannifin's Hydraulic Accumulator Division
Parker Hannifin's Hydraulic Accumulator Division supplies the global marketplace with the broadest line of hydraulic accumulators and accessories in the industry. For more than 50 years, Parker piston and bladder style accumulators have been improving the performance of hydraulic systems by prolonging equipment life, lowering operating costs and reducing downtime. For more information, visit parker.com/accumulators.

With annual sales exceeding $9 billion, Parker Hannifin is the world's leading diversified manufacturer of motion and control technologies and systems, providing precision-engineering solutions for a wide variety of commercial, mobile, industrial and aerospace markets. The company employs more than 57,000 people in 43 countries around the world. Parker has increased its annual dividends paid to shareholders for 50 consecutive years, among the top five longest-running dividend-increase records in the S&P 500 index. For more information, visit the company's web site at www.parker.com or its investor information site at www.phstock.com.

Technical Contact:
Rob Lorance, Marketing Manager

Company Address:
10711 North Second Street
Rockford, IL 61115
815-636-4110

Web Page:
parker.com/accumulators


More from Chemicals & Gases