Accessories Enhance the Productivity of Vi-Cas Vacuum Cups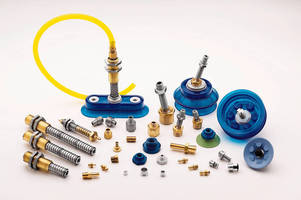 Cincinnati, OH - Vi-Cas Manufacturing offers a wide variety of accessories including vacuum valves, swivel joints, and level compensators which can make their replacement vacuum cups more productive and energy efficient. When used with lifters, manipulators, pick-and-place systems, packaging, label applicators, and other vacuum equipment, applicable vacuum cup accessories can speed material handling operations while saving energy costs - thus enhancing the bottom line for manufacturing companies of all types.

Vacuum valves, which open to create suction only when they contact the work-piece, save energy over the constant-vacuum situation normally encountered with traditional, non-valved cups. This provides a quieter work environment and substantial energy savings.

Swivel joints pivot up to 30° in any direction to compensate for application on uneven surfaces. These self-leveling joints properly orient the vacuum cup to the work-piece, even if that orientation changes from cycle-to-cycle. Level compensators automatically compensate for changes in vertical orientation of the work-piece, even if that changes from cycle-to-cycle. Virtually any type of fitting or adaptor can also be added. Eliminating the need for proper orientation and height of work-pieces can increase the speed of production lines and thus overall plant productivity.

Vi-Cas has been manufacturing vacuum cups in various shapes, sizes and materials since 1970. They provide short or long manufacturing runs, with short turnaround times. On demand delivery is also available. Vi-Cas can quote custom designs from customer-supplied drawings, or reverse engineer from customer-supplied cups. Free samples are available. For more information contact Rob Wagner of Vi-Cas Manufacturing at (513) 791-7741, 8407 Monroe Avenue, Cincinnati, OH 45236 or visit them at www.vi-cas.com.


More from Food Processing & Preparation