Access Point ensures reliable Wi-Fi for outdoor environments.
Press Release Summary: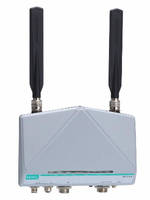 Featuring IP68-rated weatherproof housing, Model AWK-4131A-US-T supports 802.11n and 2x2 MIMO to optimize throughput up to 300 Mbps, even under conditions of interference and multi-path propagation. Industrial AP/bridge/client operates from -40 to 167°F and offers dual isolation on power and RF signals. Unit also features AeroLink Protection, which provides smart failover method with fast recovery time and scalability. Product is optimized for installation in railways, bridges, and marinas.
---
Original Press Release:
Moxa Weatherproof Access Point Ensures Highly Reliable Wi-Fi for Outdoor Environments
BREA, CA, -- Outdoor wireless LAN deployments are subject to less-than-ideal environments, such as very high or low humidity, or sub-zero temperatures. For this reason, it is important to choose wireless devices that can handle a wide temperature range and have sufficient ingress protection to keep out dust and moisture.

To meet this need, Moxa has introduced its new AWK-4131A-US-T outdoor industrial AP/bridge/client featuring an IP68-rated weatherproof housing coupled with support for ultra-fast 802.11n and 2X2 MIMO (Multiple-input /multiple-output) to improve throughput up to 300 Mbps, even under conditions of interference and multi path propagation. Tolerant of vibration, moisture and wind, it is optimized for installation in railways, bridges and marinas, as well as critical industrial applications including high-resolution IP video surveillance.

"The Industrial IoT continues to evolve, converging multiple systems into single networks, and making reliability all the more critical since a single AP failure can affect availability on a large scale," said Nick Sandoval, Wireless Product Marketing Manager. "Our AWK-4131A-US-T delivers extremely reliable wireless networking to the harshest, most demanding environments so that industrial users can benefit from Wi-Fi's cost savings, flexibility, and scalability."

Designed specifically for harsh environments, the AWK-4131A-US-T can be used in an exceptionally wide temperature range of -40° C to 75° C (-40° F to 167° F). It is the industry's first weatherproof access point to offer dual isolation on power and RF signals, greatly enhancing its resistance to the negative effects of electromagnetic disturbances. The unit also features Moxa's AeroLink Protection for superior wireless redundancy and reliability. AeroLink Protection provides a smart failover method with fast recovery time and scalability, making it easy to enable multiple layers of wireless connection protection to maximize mission-critical system uptime and keep the entire network live for continuous transmission.

Since the AWK-4131A-US-T supports 2x2 MIMO 802.11n, it is able to transmit at high speeds up to 300 Mbps. When used as a wireless client, it supports Moxa's Turbo Roaming for superior wireless roaming performance, specifically 150 ms out of the box without requiring a separate controller. The AWK-4131A-US-T also supports Dynamic Frequency Selection operating in the 5GHz band, which makes more wireless spectrum available to minimize interference and maximize bandwidth.

The Moxa AWK-4131A-US-T is certified by the Wi-Fi Alliance for maximum interoperability and is compliant with all major standards and approvals.

ABOUT MOXA
Moxa is a leading manufacturer of industrial networking, computing, and automation solutions. With over 28 years of industry experience, Moxa has connected more than 30 million devices worldwide and has a distribution and service network that reaches customers in more than 70 countries. Moxa delivers lasting business value by empowering industry with reliable networks and sincere service for automation systems. Information about Moxa's solutions is available at www.moxa.com. You may also contact Moxa by email at info@moxa.com.

©2016 MOXA INC.  All rights reserved.  All products and names mentioned are the property of their respective owners.  While Moxa has made every effort at the time of publication to ensure the accuracy of the information provided herein, product specifications, configurations, prices, system/component/options availability are all subject to change without notice.
More from Electronic Components & Devices