Access Control Software offers scalable security solution.
Press Release Summary: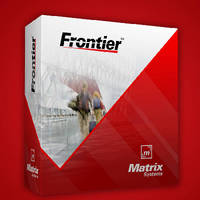 Featuring built-in interfaces for both Schlage and Videx® CyberLock® wireless hardware, Frontier(TM) 2010 provides real-time monitoring of access doors and alarm points for local and remote locations. Wizard-based import/export capability allows users to customize data formatting, data fields, and amount of data that is transferred. Users can also import 3D CAD drawing of facility's floor plan, which details doors and alarm points, and overlay it onto satellite image of location.
---
Original Press Release:

Matrix Systems Frontier(TM) 2010 Access Control Software Features Schlage and CyberLock® Integration



DAYTON, Ohio-Matrix Systems, a Dayton, Ohio-based security solutions provider, has released its Frontier(TM) 2010 access control software, which features built-in interfaces for both Schlage and Videx® CyberLock® wireless hardware, plus improved import/export configurability.

Frontier 2010 is a comprehensive and scalable security solution that provides real-time monitoring of access doors and alarm points for local and remote locations. Frontier can be configured for virtually any size installation-in the transportation, business, education, government, industrial and healthcare industries.

The latest version of Frontier offers built-in interfaces for Carmel, Ind.-based Schlage wireless lock solutions, which install five to ten times faster than wired lock alternatives. Combining Schlage with Frontier 2010 simplifies installation and eliminates the need for carpentry, patching and repainting, resulting in significant savings on both retrofit and new commercial building construction projects.

Schlage wireless lock systems provide the same online, real-time capabilities as wired systems-such as access privilege changes and audit records that are available at the central control terminal-all from a common database, which simplifies data entry/management.

Frontier 2010 also has a built-in interface for CyberLock®, a non-wired, stand-alone security option that can save facilities 60 to 70-percent in ancillary door security costs. Created by Corvallis, Ore.-based Videx, CyberLock replaces conventional key cylinders with electronic cylinders that allow door access only with preprogrammed/assigned electronic CyberKeys®. CyberLock records access events using Matrix Systems Frontier 2010 access control software.

CyberLock is an affordable security alternative, offering savings on installation compared to conventional door card readers, and less expensive equipment than wireless door entries. The Matrix Systems-Videx integration is the perfect solution for securing ancillary doors where audits are necessary but the security level doesn't justify the installation or equipment costs of conventional door card readers. Doors such as communication closets, fence gates, unoccupied out-parcel buildings, lockers, new doors, remote entries and even padlocks can now easily be added to a facility's Matrix Systems' Frontier 2010 access control system.

Also new in Frontier 2010 is a wizard-based import/export capability that allows users to customize data formatting, data fields and the amount of data that is transferred. The wizard is compatible with most popular personnel data software formats that human resources, IT, law enforcement, security and other professions use.

The cutting-edge graphics technology that debuted in Frontier 2009 is further enhanced in Frontier 2010. Users can now import background raster images such as JPG, BMP or TIFF files and combine them with imported native vector images such as CAD or custom-drawn images that are totally editable within the software. Additionally, a user can import a three-dimensional CAD drawing of a facility's floor plan, which details doors, alarm points and other access control features, and overlay it onto a satellite image of the location and surrounding grounds for a total security overview.

Frontier 2010 is compatible with Microsoft® Windows® 2003 Server, XP, Vista, and Windows® 7 as well as SQL Server 2005 and Crystal Reports XI. Frontier is an open architecture program utilizing an ODBC-compliant database that allows access by a multitude of third-party programs and interfaces.

About Matrix: For more than 30 years, Matrix Systems has secured people, property and information throughout the world. Our turnkey security management solutions are built to withstand the rigorous physical and procedural demands of any organization size and type. Matrix Systems' open architecture design standards allow seamless integration with digital video, visitor management and many other products that comprise a total physical security environment. Through expert installation, training and technical support, Matrix Systems offers a level of customer service unparalleled in the security industry. For more information on Matrix Systems, please visit www.matrixsys.com or call 800-562-8749 x4490.

More from Controls & Controllers