AC Output Solid State Relays come in several models and ratings.
Press Release Summary: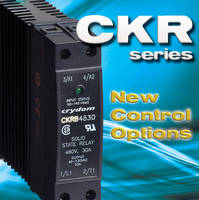 Comprised of 22.5 mm DIN rail-mount, solid state relays, CKR series includes 27 models that offer optimized AC input control options for use in heating, lighting, motion and power control AC applications. CKRB models have integral heat sink; are rated at 10, 20, or 30 A rms output at 25°C from 24–660 Vac; and offer optimized input control range of 90–140 Vac @ 50/60 Hz. While CKRA models are rated for 110–280 Vac input, CKRD models are rated for 4–32 Vdc input.
---
Original Press Release:

Crydom Announces the Expansion of Its Classic CKR Series of AC Output Solid State Relays



27 CKRB models are now available offering optimized AC input control options for use in heating, lighting, motion and power control AC applications



Crydom, a brand of Custom Sensors & Technologies (CST), is pleased to announce the availability of 27 new models added to the popular CKR series of AC output DIN rail mount Solid State Relays. The CKRB models with integral heat sink rated at 10, 20 or 30 amps rms output at 25°C from 24 to 660 VAC, offer an optimized input control range of 90 to 140 VAC @ 50/60 Hz. Furthermore, previously existing CKRA models are now rated at 110 to 280 VAC input, while CKRD models complement the series rated at 4 to 32 VDC input. The CKR family of 22.5 mm DIN rail mounted Solid State Relays offers the latest in solid state switching including zero voltage for resistive loads and instantaneous turn on for phase control or motor switching. UL, CSA and VDE approved, the CKR series is RoHS compliant and CE certified.



For additional information about Crydom's CKR series or other Crydom products, contact your local authorized Crydom Distributor, Representative or Crydom Sales Office, or visit crydom.com



About Crydom

Crydom, global expert in solid state switching technology, combines technology and innovation to provide customers a wide range of standard Solid State Relays and Solid State Contactors, and specializes in custom designed solid state switching solutions for any load control application. Crydom is a brand of CST.



crydom.com



About Custom Sensors & Technologies

Custom Sensors & Technologies (CST) is a specialist in sensing, control and motion products.



Through its brands, BEI Kimco, BEI Sensors, BEI PSSC, Crouzet, Crydom, Kavlico, Newall and Systron Donner Inertial, CST offers customizable, reliable and efficient components for mission-critical systems in Aerospace & Defense, Transportation, Energy & Infrastructure, Medical, Food and Beverage and Building Equipment markets.



Focused on premium value offers and committed to excellence, CST, with 4,400 employees worldwide and sales of $604M US in 2012, is the dependable and adaptable partner for the most demanding customers.



cstsensors.com



For additional information, please contact:

Gabriela Miranda

+1(619) 210-1556

gabriela.miranda@cstsensors.com



Crydom Inc.

2320 Paseo de las Americas, Suite 201

San Diego, CA, 92154 USA

Tel: (877) 502 5500

Fax: (619) 210 1590

sales@crydom.com



Crydom SSR Limited

Arena Business Centre, Holyrood Close, Poole

Dorset, BH17 7FJ, United Kingdom

Tel: +44 1202 606030

Fax: +44 1202 606035

sales-europe@crydom.com



Follow us: YouTube  Google+  Twitter  Facebook  LinkedIn



Copyright © 2013 Custom Sensors & Technologies, All rights reserved.

www.crydom.com

www.crouzet-ssr.com

More from Communication Systems & Equipment