AC Motor Speed Control drives motors rated up to 1 hp.
Press Release Summary: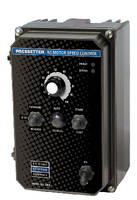 Housed in NEMA-4X/IP65 aluminum die-cast enclosure, Model 2999 Pacesetter™ is suited for stand-alone AC gearmotor applications that require variable speed, controlled acceleration, and reversing. Unit drives 230 Vac, 50/60 Hz, inverter-duty 3-phase gearmotors and motors rated up to 1 hp/746 W. Allowing for up to 200% starting torque, control ensures startup of high frictional loads. Slip compensation with static auto-tune and boost circuitry provides load regulation over wide speed range.
---
Original Press Release:
Bodine Introduces New Rugged AC Motor Speed Control - Model 2999
NORTHFIELD, IL – Bodine Electric Company's newest AC motor speed control is simple to set up and to operate, and it features an extremely rugged NEMA-4X / IP-65 enclosure. The control is ideal for stand-alone AC gearmotor applications that require variable speed, controlled acceleration and reversing. Typical applications include conveyor systems, packaging machines, food processing equipment, medical or lab equipment and a wide range of other industrial automation equipment.

The model 2999 Pacesetter™ AC speed control is designed to drive 230 VAC, 50 or 60 Hz, inverter-duty, 3-phase gearmotors and motors that are rated up to 1 HP (746 Watts). It operates from a single-phase, 115 or 230 VAC line, and is housed in a NEMA-4X/IP-65 washdown and watertight aluminum die-cast enclosure. The control's sine wave coded Pulse Width Modulated (PWM) output provides high motor efficiency and low noise. Linear acceleration and deceleration can be adjusted, making the control suitable for soft-start applications.

Easy to install and operate
Bodine's model 2999 features a built-in Forward-Stop-Reverse switch, allowing dynamic braking for applications where the motor needs to be manually or infrequently reversed. User-friendly trimpots eliminate computer-like programming, and jumpers allow the drive to be used with a wide range of motors without recalibration. The control is factory-set for most applications and is GFCI compatible.

Features
The speed control allows for up to 200% starting torque, ensuring startup of high frictional loads. In addition, slip compensation with static auto-tune and boost circuitry provides excellent load regulation over a wide speed range. A run/fault relay signals if the drive is in stop mode, or a fault has occurred, and can turn the equipment off. Further system protection is provided by undervoltage and overvoltage circuitry, which shuts down the drive if the AC line input voltage goes above or below the operating range. Two built-in diagnostic LEDs mounted on the enclosure cover indicate "power on" and "drive status". The control also includes a start/stop switch and a main speed potentiometer.

Availability
Our new model 2999 is available through Bodine's extensive distributor network, via direct sales to OEMs, or from the Bodine web site. Stock orders typically ship within 2-3 business days. Bodine offers an extended 2-year system warranty when a Bodine gearmotor/motor and control are purchased together.

For detailed product specifications and to view or download our supporting product literature, please click here.

Bodine Electric Company offers over 1,200 standard products, and thousands of custom designed gearmotors, motors and motion controls (fixed and variable speed AC, brushless DC, and permanent magnet DC).  Bodine products are available via an extensive distributor network or sold directly to OEMs. Known for their reliability, long life and competitive prices, Bodine gearmotors and motors are designed for demanding industrial and commercial applications such as medical devices, scientific and laboratory equipment, labeling equipment, printing presses, packaging equipment, and factory automation. Bodine Electric is headquartered in Northfield, Illinois (20 miles north of Chicago) with manufacturing and assembly operations in Peosta, Iowa, U.S.A. Bodine's quality management system is certified to ISO 9001:2008. Web site: www.bodine-electric.com

Marketing Contacts: Sarah Prais – Sales/Marketing Communication Specialist, or Edmund Glueck, Manager – Marketing and Product Development, tel. 773.478.3515 (USA). E-Mail: [email protected].

Copyright © 2014 Bodine Electric Company