AC Gearmotor has 717 lb-in. continuous torque rating.
Press Release Summary: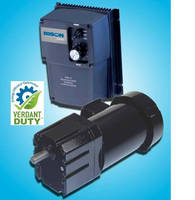 Driven by ¼ or ½ hp 3-phase 230 V TEFC AC electric motors, 650 Series inverter-duty variable speed gearmotors are designed for long life variable frequency drive operation with continuous duty torque outputs from 148-717 lb-in. Verdant Duty(TM) AC gearmotors consists of 5 models with gear ratios from 27.6-214.5:1. Units are suited for conveying and dynamic load application.
---
Original Press Release:

Bison Gear Significantly Increases Torque Range of Verdant Duty(TM) AC Gearmotor Line



Continuous torque ratings to 717 in-lbs (81 N-m) achieved with addition of 650 Series to 3-phase inverter-duty AC gearmotor line.

St. Charles, IL - June 24, 2009 - Following the successful introduction of its 100 in-lb (11.3 N-m) inverter-duty AC gearmotor line, Bison Gear & Engineering Corp. has increased by seven times the output torque capability of its Verdant Duty(TM) 3-phase AC offering with the introduction of the new 650 Series variable speed gearmotors. Driven by 1/4 or 1/2 hp (186 or 373 W) three phase 230 volt TEFC AC electric motors, these specially constructed inverter-duty gearmotors are designed for long life variable frequency drive operation with continuous duty torque outputs from 148 to 717 in-lbs (16.7 to 81 N-m).

"These new Verdant Duty(TM) AC gearmotors are ideally suited for equipment designs that can benefit not only from higher efficiency three-phase input, but also variable speed to suit load conditions as in conveying and other dynamic load applications," said Bunnyray Larmond, Bison Gear regional sales manager. "Of course, Bison also offers matching AC drives in both open chassis and NEMA 4X enclosures to accompany these gearmotors."

The 650 Series Verdant Duty(TM) standard product offering is made up of five models with gear ratios from 27.6 to 214.5:1. Like all of Bison's standard and Verdant Duty(TM) products, they are supported by Bison's In-Stock, Instant-Ship (ISIS) program and available from Bison distributors and direct from the Bison website. Complete specifications and CAD drawings for these units are also available at Bison Gear's new website.

The Verdant Duty(TM) gearmotors are manufactured in Bison Gear's suburban Chicago facility to Bison's high quality standards in order to ensure a short supply chain and reliable, long-life operation.

In addition, Bison's Innopreneurial(TM) application and design engineering capabilities are available to assist OEMs in their product development and improvement initiatives.

About Bison Gear & Engineering Corp.

Founded in 1960, Bison Gear & Engineering Corp. designs and manufactures fractional horsepower electric motors, gearmotors and gear reducers used in industrial and commercial OEM applications worldwide. Bison's strong engineering tradition, based on Robusticity(TM) principles, offers products with up to twice as much torque in the same package size as competitors. Bison's St. Charles, Illinois integrated production facility manufactures gearmotors and reducers in parallel shaft and right angle configurations, as well as AC and DC electric motors, for applications where dependability and long lifetimes are important. BisonGear.com

CONTACT:

Brenda Thiessen,

Marketing Supervisor

Bison Gear & Engineering Corp.

Phone 1-630-443-5797

bthiessen@bisongear.com

More from Non-Industrial Products