AC Fusible Panelboards provide critical fault protection.
Press Release Summary: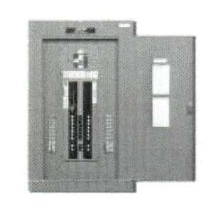 Series FPB ensures that single faulted circuit will not adversely affect other branches or critical loads by clearing faults in ¼ cycle or less. UL-listed unit utilizes semiconductor, current-limited fuses in series with molded-case circuit breaker. Semiconductor fuse provides protection from potentially catastrophic short circuits generated by fault, while breaker provides long-term sustained overload protection. Panelboards are suited for UPS and inverter applications.
---
Original Press Release:
Fusible Panelboards from Solidstate Controls Provide Critical Fault Protection for UPS and Invertor Applications

COLUMBUS, OH- AMETEK Solidstate Controls has introduced a new line of AC Fusible Panelboards (FPB Series) that are designed especially for critical power distribution needs of uninterruptible power supply (UPS) and invertor applications.

Critical AC loads often are subjected to high-magnitude, short-circuit currents that result from a fault on the secondary, or load, side of the UPS/Invertor that can cause severe damage to equipment or result in loads being dropped, creating problems for Operations personnel. Those faults must be isolated from all other branch circuits to avoid a cascading effect. Solidstate Controls' FSB Series panelboards ensure that a single faulted circuit will not adversely affect any other branches or critical loads by clearing the faults in a quarter cycle or less.

The UL-listed FSB Series panelboards utilize semiconductor current-limited fuses in series with a molded case circuit breaker. The semiconductor fuse provides protection from potentially catastrophic short circuits generated by a fault, while the breaker provides for long-term sustained overload protection. The combination of the series fuse and circuit breaker provides lhe FPB Series equipment with significant advantages versus other types of AC panelboards that are equipped with either fuses (with or without switches) or breakers only.

The FPB Series are manufactured by the HDR Power Systems unit of Solidstaete Controls and are available in a range of current and voltage ratings that can be configured to meet user
requirements.

Solidstate has administrative and manufacturing operations at its 875 Dearborn Drive, Columbus, Ohio, location. All of its products are marketed through an independent network of manufacturer's representatives and distributors in the United States and 27 foreign countries. Solidstate's commitment to customer service continues long after the sale with a worldwide network of skilled, experienced field service technicians available for UPS installation, start-up, on-site service, and training.

AMETEK Solidstate Controls is a unit of AMETEK, Inc., a leading global manufacturer of electronic instruments and electric motors with annual sales of more than $1 billion.

For additional information, contact Solidstate's Marketing Department at 875 Dearborn Drive, Columbus, OH 43085 USA. Phone: 614-846-7500. Fax: 614-885-3990. Web site: www.solidstatecontrolsinc.com
More from Thermal & Heating Equipment