AC/DC TIG Inverter weighs 47 lb for field portability.
Press Release Summary: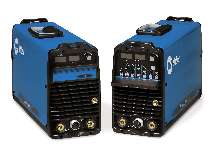 Dynasty® 200 offers welding range of 5-200 A ac and 1-200 A dc. Auto-Line(TM) technology enables unit to plug into any primary power, from 120-460 V, single or 3-phase, 50 or 60 Hz. It maintains steady welding output even if primary power varies widely. Wind Tunnel Technology(TM) protects electrical components and PC boards from contaminants such as dirt and metal dust created by grinding. Fan-On-Demand(TM) cooling system runs only when needed.
---
Original Press Release:

New Dynasty® 200 Is Miller's Lightest AC/DC TIG Inverter


o 47-lb. for field portability, 5 to 200 amp output
o Improved performance, productivity on aluminum
o Features Auto-Line(TM), Fan-On-Demand(TM) and Wind Tunnel Technology(TM)

APPLETON, Wis., April 1, 2003 - For contractors and fabricators that need to TIG weld both steel and aluminum in the field and other hard-to-reach places, Miller Electric Mfg. Co. has introduced the Dynasty® 200, an AC/DC TIG/Stick inverter that weighs 47 lb. It has a welding range of 5 to 200 amps (AC) and 1 to 200 amps (DC) and an unbeatably stable AC and DC arc throughout its entire range. The Dynasty 200 has an AC TIG duty cycle of 40 percent at 150 amps, a DC TIG duty cycle of 70 percent at 150 amps and a DC Stick duty cycle of 60 percent at 150 amps/26 volts. The unit will be available nation-wide beginning March 24, 2003.

Like its DC-only cousin the Maxstar® 200, the Dynasty 200 features Miller's exclusive Auto-Line(TM) Technology. Auto-Line enables the Dynasty 200 to plug into any primary power in the world, from 120 through 460 volts, single- or three-phase, 50 or 60 Hz. Auto-Line works without any manual adjustments or linking mechanisms, which improves reliability. Further, Auto-Line maintains a steady welding output even if primary power varies widely.

"Unlike competitive TIG/Stick inverters, welding operators will never experience a fluctuation in the welding arc so long as the primary power remains within a 120 to 460 V range," said Jim Brook, product manager, Miller Electric. "With this type of primary power and weld process flexibility and size and weight, the Dynasty 200 meets the needs of those who weld both in the shop and the field."

Designed for the Field
For increased reliability in harsh conditions, the Dynasty 200 uses an airflow management design called Wind Tunnel Technology(TM). This protects electrical components and PC boards from contaminants such as dirt and metal dust created by grinding. The Dynasty 200 also uses Miller's Fan-On-Demand(TM) cooling system. The cooling fan only runs when needed, reducing the amount of airborne dust and dirt being pulled into the unit. This saves energy, prolongs the life of the unit, and operators really appreciate the noise reduction.

Dynasty Productivity
The Dynasty 200 provides the same advanced squarewave technology benefits as the more powerful Dynasty 300, but at about half the weight. The Dynasty 200 permits adjusting frequency from 20 to 250 Hz and adjusting electrode negative (EN) duration from 30 to 90 percent. By fine tuning these variables, operators can stabilize the arc, reduce arc wandering, obtain excellent directional control over the arc and puddle, establish the weld puddle faster and precisely place the filler and control bead width. Many operators report that it reminds them of welding steel with a DC arc.

Note that for optimum performance when welding aluminum with an inverter, Miller recommends using a 2% ceriated tungsten sharpened to a truncated (flat tip) point (2% thoriated will work as a second choice in a pinch). Do not use a pure tungsten or ball its end (the "old" practice).

The Dynasty 200's technology prevents the burn-through and warping that might occur on thin material and ensures better penetration at the root. Most importantly, creating a bead precisely the right width can reduce welding time 25 percent or more, reduce post-weld grinding and finishing, and lower consumables use.

Fabricators and manufacturers that use the technology in the Dynasty 200 in place of conventional squarewave technology have created the potential to bill an additional 10 operator-hours per week (in a 40-hour week) or raise billing rates by 25 percent. In certain aluminum welding applications and applications requiring portability, the Dynasty 200 can pay for itself in a fraction of the two-year time period purchasing agents often use for this type of equipment.

Two Versions
Two Dynasty 200 models offer options professionals demand by eliminating unnecessary controls and lowering the unit's price, or by adding features that enhance productivity or ease integration of the machine into an automated application.

The standard model, the Dynasty 200 SD, features: Lift-Arc(TM) TIG starts, a built-in high-frequency TIG arc starter (no need to purchase an add-on HF unit), dig control for improved Stick arc starts, a built-in gas solenoid valve, pre- and post-flow gas control, standard trigger functions, 14 pin amphenol and international-style connectors.

The Dynasty 200 DX contains all the features of the SD, plus full-featured controls for true pulsing (peak current, background current, pulse width and pulses per second), sequence controls (initial slope, final slope, initial current and final current) and additional trigger functions such as trigger hold, spot timer and 4T.

The Dynasty 200 is covered by Miller's True-Blue® three-year factory warranty. For more information or to download a product spec sheet, visit Miller's website at MillerWelds.com, call 1-800-4-A-MILLER (800-426-4553), fax 877-327-8132 or write to Miller Electric Mfg. Co., P.O. Box 100, Lithonia, GA 30058.

With headquarters in Appleton, Wis., Miller is a leading worldwide manufacturer of arc welding equipment and related systems for metalworking, construction, maintenance and other applications. Miller Electric Mfg. Co. is a wholly owned subsidiary of Illinois Tool Works Inc. (ITW), Glenview, Ill. ITW is a diversified multinational manufacturer of highly engineered components, assemblies and systems.

More from Sensors, Monitors & Transducers