AC/DC Switching Regulated Power Supplies are convection cooled.
Press Release Summary: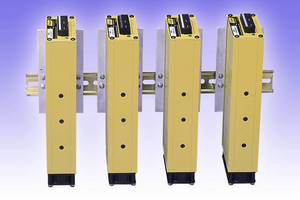 Operating from universal 90–265 Vac, 49–420 Hz, single-phase or 110–350 Vdc supply, 1.7 x 3.5 x 8.8 in. WN8B single-output power modules are available with 39 output voltages from 3.3–125 V and ±0.5 or ±1 V user-adjustment range. Output voltage may be controlled by external 1K potentiometer, and efficiency is rated up to 81%. Along with up to 75 W output power, 0 to +71°C rated products offer PFC of 0.99 at 115 Vac, 60 Hz and full load as well as current limiting capabilities.
---
Original Press Release:

Acopian Announces 75 Watt, Convection-Cooled Switching Regulated Power Supplies



Narrow Profile, High Efficiency Units Feature Wide AC or DC Input Range



Easton, PA – Acopian Power Supplies, a leader in the design, manufacturing and distribution of standard, modified-standard and custom power supplies, today announced the availability of the WN8B power supply, a member of the Narrow Profile, three-day power supply series of switching regulated power supplies.  The AC-DC single-output units provide up to 75 Watts of output power, with convection cooling (no fans required).  The convection-cooled design eliminates the need for fan maintenance, along with audible/ambient noise and vibrations. Notably, the modules measure 1.7" (L) x 3.5" (W) x 8.8" (H) and can therefore be mounted in tight spaces where most standard units do not fit.



In addition to their narrow profile and small footprint, the WN8B power supplies' current limiting capabilities make them ideally suited for a range of applications in which high inrush loads are used.   They are most commonly employed in industrial automation, high-power LED lighting, test and measurement equipment, broadcast equipment, gaming and point-of-sale equipment, and IT equipment as well as in communications, motor control power, and motorized entrance gates, shades and blinds.



Acopian's WN8B power modules operate from a universal input of 90-265 VAC, 49-420 Hz, single phase, or 110-350 VDC.  They are offered with power factor correction (PFC) of 0.99 at 115 VAC, 60 Hz and full load, to ensure compliance with EN61000-3-2.  Units are available with 39 output voltages ranging from 3.3 V to 125 V, and with a +/- 0.5 V or +/- 1 V user-adjustment range.  The output voltage may be controlled by an external 1K potentiometer.



The convection-cooled ambient operating temperature range is from 0 to +71 °C, while  power-saving efficiency is up to 81%.  Common to the entire Narrow Profile Series of switching regulated power supplies are universal input, PFC, high surge current capability, soft-start function, cold-start function, input overvoltage protection, overload/short circuit protection, output inhibit, input undervoltage, internal EMI filtering, remote sensing, and thermal protection.  A green LED output indicator is lit when the supply is on (DC).  Modules are CE Marked, and feature general-purpose safety agency certifications per UL60950 and UL508.  The series further meets the conducted and radiated EMI requirements of EN55022, Class A.



A metal case fully encloses all circuitry and provides EMI shielding, while an AC input filter attenuates both common and differential mode noise conducted to the line.  The WN8 power supplies are delivered with threaded mounting holes to permit mounting to a chassis, cabinet wall or bracket.  Units may also be used on a test bench or tabletop. Accessory mounting kits for wall mounting or DIN rail mounting are available.



To learn more about Acopian's convection-cooled WN8B single output, switching regulated power supplies, visit https://www.acopian.com/single-s-narrow-m.html, or call 1-800-523-9478.



While firm pricing is determined according to customers' specifications, prices for Acopian's WN8B convection-cooled power supplies start at $300.00 per unit.  Modules are shipped within three days ARO and come with a full 5-year warranty. All Acopian products are made in the USA.



About Acopian

Acopian Technical Company has been designing, manufacturing and distributing custom, standard and modified-standard power supplies since 1956. Their products are commonly employed in a broad range of electronics applications in such strategic markets as computing, aerospace, automotive, medical, telecommunications, and industrial control. Acopian's comprehensive portfolio consists of full lines of AC-DC single, dual and triple output power supplies, AC-DC wide adjust output power supplies, DC-DC converters, high voltage AC-DC and DC-DC power supplies, redundant systems, N+1 power supplies and systems built to customers' unique requirements. Standard models have outputs from 1 V to 30 kV, and up to 1200 W. Each is shipped within 3 days (larger units ship within 9 days) after receipt of order. Redundant power systems come with a full 5-year warranty and ship within 9 days after receipt of order. All Acopian products are built in the USA and shipped factory direct to customers worldwide.



Acopian Power Supplies

P.O. Box 638

Easton, PA 18044

(610) 258-5411

FAX: (610) 258-2842

www.acopian.com

engr@acopian.com



CONTACT:

Alex Karapetian

(610) 258-5441

alex@acopian.com

More from Material Handling & Storage