AC/DC Power Supply offers 95.5% efficiency at 50% full load.
Press Release Summary: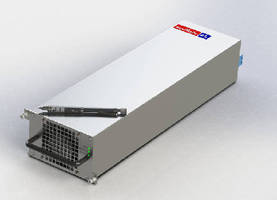 Packaged in 2U format, Model D2U5T-H3-7000 provides 54 Vdc output at up to 7,000 W from 480 Vac input. User selectable standby output offers 3.3 or 5 Vdc, and up to 3,500 W can be delivered from 230 VAC input. Providing true 3-wire 3-phase operation without need for neutral connection, fan-cooled power supply accommodates input voltages from 180–264 Vac for 3,500 W operation and 320–525 Vac for 7,000 W output. Hot-swappable unit is suited for datacenters, broadcast, and industrial applications.
---
Original Press Release:

Murata Introduces Highly Efficient 7kW 3-phase AC/DC Power Supply Ideal for Datacentres, Broadcast and Industrial Applications



Hoofddorp, Netherlands: Murata today announced the D2U5T-H3-7000 3-phase input hot-swappable AC/DC power supply from Murata Power Solutions. This fan cooled highly efficient supply, typically up to 95.5% overall efficiency at 50% full load, provides a 54 VDC main output at up to 7,000 Watts from a 480 VAC input. A user selectable standby output offers either 3.3 or 5 VDC.  Up to 3,500 Watts can be delivered from a 230 VAC input. Active power factor correction gives this unit a 0.99 power factor and less than 10% harmonic current. The D2U5T offers true 3-wire 3-phase operation without the need for a neutral connection and accommodates input voltages in the range 180- 264 VAC for 3,500 Watt operation and 320 – 525 VAC for 7,000 Watt output.



Packaged in an industry standard 2U format and delivering a 23.1 Watt per cubic inch power density the D2U5T is designed for use in broadcast, industrial and large data centre applications where high power conversion efficiency is vital. Up to three of these hot-swappable units can be connected in parallel operation and utilize droop current sharing to deliver increased power capacity to the system load or provide N+1 redundancy of supply to the application.



The D2U5T provides a number of features including over-voltage, over-current and over-temperature protection. LEDs give an indication of power supply status and any fault conditions occurring in the input, output or power conversion stages of the unit. Control and monitoring of the unit is also possible using the standard PMBus protocol via an I2C interface.



For further information and reader enquiries:

Donia Kamil

Murata Electronics Europe

B.V. Wegalaan 2

2132 JC Hoofddorp, The Netherlands

Tel: +31 (0)23 5698456

Fax:  +31 (0)23 5698361

E-mail: dkamil@murata.com

Web: www.murata.com



About Murata

Murata is a leading manufacturer of electronic components, modules, and devices. The complete range of this Technology house includes ceramic capacitors, resistors/thermistors, inductors/chokes, timing devices, buzzers, sensors and EMI suppression filters. Whilst the company is known as a global ceramic capacitor manufacturer, it is also the world leader in Bluetooth® & WiFi™ Modules, the world's no.1 manufacturer of board-mount DC-DC converters and is a key manufacturer of standard and custom AC-DC power supplies.



Established in 1944, Murata is headquartered in Japan and has European offices in Finland, France, Germany, Hungary, Italy, the Netherlands, Spain, Switzerland and the UK.  



For more information on Murata, please visit: www.murata.com. You can also follow us on Twitter @MurataEurope or LinkedIn http://www.linkedin.com/company/murata-electronics, or join us on Facebook at http://www.facebook.com/MurataElectronics.