AC-DC Power Supplies provide front-end power conversion.
Press Release Summary: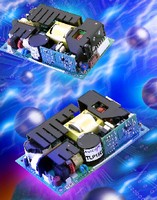 Measuring 5 x 3 x 1.25 in., open-frame 150 W Series TLP150 offers choice of 12, 24, or 48 V outputs and provides 12.5, 6.3, and 3.2 A, respectively. Main output channel delivers up to 100 W continuously under free air convection conditions, rising to 150 W with 200 lfm forced air cooling. With universal input from 85-264 Vac, RoHS-compliant power supplies use switch-mode technology to achieve 81% efficiency at full load with 115 Vac input, and 84% with 230 Vac input.
---
Original Press Release:

RoHS-Compliant 150 Watt AC-DC Power Supplies Are Ideal Front-Ends for Distributed Power



High density 5 x 3 x 1.25 inch package suits 1U-high rack equipment
Low airflow requirements: convection-only to 100 W, then just 200 LFM to 150 W

FRAMINGHAM, Mass., February 2, 2006 - Artesyn Technologies (Nasdaq:ATSN) has introduced a new series of compact 150 Watt ac-dc power supplies that are ideal front-end conversion solutions for systems with distributed power and point-of-load architectures. The new TLP150 series power supplies provide a choice of 12 V, 24 V or 48 V outputs to simplify system integration, backed by extensive control and monitoring features to satisfy a wide variety of dc supply requirements. For distributed power applications, the 12 V model can be used to directly power boards fitted with multiple non-isolated point-of-load (POL) dc-dc converters, while the 24 V and 48 V models are suitable for feeding on-board isolated brick or intermediate bus converters. The 24 V model is also ideal for powering equipment with electromechanical loads such as relays, pumps and print-heads. In addition to the main output channel, each power supply also provides a 12 V output for powering fans, and an auxiliary 'always-on' 5 Vdc output for applications that require standby operation is available as an option.

All TLP150 series power supplies are Pb-free (RoHS 6/6) compliant. The 12 V and 24 V models are also available with full medical approvals, for applications such as patient monitoring systems and other portable equipment used in medical wards and surgical operating theaters. The medically approved versions have a very low safety ground leakage figure of 150 µA, compared to 1 mA for the industrial versions, and are equipped with fuses in both live and neutral inputs.

TLP150 series ac-dc power supplies employ an open-frame construction, combined with highly integrated layout and packaging techniques, to realize a small form factor, high functionality unit capable of delivering high levels of useable power. Measuring just 5 x 3 inches, with a profile of only 1.25 inches, the supplies have a power density of 8 Watts per cubic inch. The main output channel can deliver up to 100 Watts continuously under free air convection conditions, rising to 150 Watts with just 200 LFM forced air cooling. The power supplies accommodate a wide ambient operating temperature range of 0 °C to 70 °C, maintaining full rated output up to 50 °C.

All TLP150 series power supplies feature a universal input that accepts any voltage in the range 85 to 264 Vac at any frequency from 47 to 63 Hz, enabling them to be used in equipment destined for any part of the world. Active power factor correction minimizes input harmonic current distortion and ensures compliance with the international EN61000-3-2 standard. The power supplies employ the latest high frequency switch-mode technology to maximize conversion efficiency, typically achieving 81% at full load with a 115 Vac input, and 84% with a 230 Vac input.

Primarily intended as low- to medium-power front-end units for distributed power systems, the small physical size and high functionality of TLP150 series ac-dc power supplies makes them especially suitable for use in information technology equipment (ITE), light industrial systems and medical equipment. Built-in control and monitoring features include 'ac power good and 'dc power good' output signals and a remote on/off input, and the supplies are comprehensively protected against overcurrent, overvoltage and overtemperature conditions.

TLP150 series 12 V, 24 V and 48 V power supplies provide maximum main channel output currents of 12.5 A, 6.3 A and 3.2 A respectively. Active 'democratic' current sharing, enabling multiple units to be connected in parallel for higher current applications, is available on select models. These models also incorporate internal Or-ing diodes fitted to the main output, for fault-tolerant and N+1 redundancy applications.

The main output channel voltage of each supply can be adjusted 10% either side of nominal via an internal trim potentiometer, and regulation is maintained to within ±3% for all line and load conditions. Differential remote sense facilities are provided to compensate for up to 0.2 V drop between the main channel output terminals and the load. The auxiliary 5 Vdc output is regulated to within ±5% and can deliver up to 1.0 A; it is primarily intended for powering 'standby' circuitry that needs to remain on for most of the time, such as power-up/down sequencers, and is unaffected by the on/off status of the main output channel. The auxiliary 12 V fan output can deliver up to 0.5 A and is present whenever the main output channel is on.

All TLP150 series ac-dc power supplies comply with the rigorous EN55022-B and FCC part 15 Level B EMC standards for conducted noise and meet all applicable immunity standards, including EN61000-4-2, -3, -4, -5 and -6 levels 3. The power supplies carry UL/cUL60950-1 and EN60950-1 VDE safety approvals, and the medical versions are also approved to UL/cUL2601-1 and VDE EN60601-1. The standard industrial versions of the supplies have isolation ratings of 3000 Vac input/output and 1500 Vac input/chassis, while the medical versions have higher 4000 Vac input/output ratings.

Conor Quinn, Product Manager for Artesyn Technologies, points out that, "This is our second significant AC-DC standard product introduction in the last six months. It complements Artesyn's broad portfolio of DC-DC converters and reaffirms our commitment to providing our customers with total solutions for all their power architecture needs."

Sample quantities of Artesyn's TLP150 series power supplies, including models with medical approvals, are available for immediate delivery. Standard lead-time for both types is stock to 8-12 weeks and pricing starts at US$69 in quantities of 500.

About Artesyn Technologies, Inc.
Artesyn Technologies, Inc., headquartered in Boca Raton, FL., is a world leader in the design, manufacture and sale of power conversion and embedded board solutions for infrastructure applications in server and storage, wireless and telecommunications systems. Our products are used in middle to high-end servers, data storage devices, routers, hubs, high-speed modems, RF amplification systems, base station controllers and transceivers. The company has a global sales reach with design and manufacturing facilities in Asia, Europe and North America. Artesyn is a public company whose common stock is traded on the Nasdaq stock market under the symbol ATSN. For more information, please visit the company's web site at artesyn.com.

More from Controls & Controllers