AC/DC Power Supplies feature 3-phase, high voltage input.
Press Release Summary: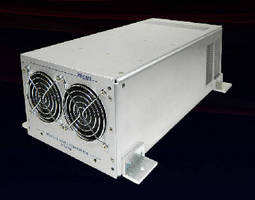 Operating from 480 Vac, 3-phase line input, 3 kW HVI 3K Series delivers any single output voltage from 24–600 Vdc. DC-input version, which accepts any voltage from 500–800 Vdc, is also available. Units are built with 3 internal power modules, each separated by redundancy diode, which allows multiple units to be connected in parallel to achieve higher output power or N+1 redundancy. Measuring 187 x 132 x 407 mm, power supplies are cooled by built-in fans.
---
Original Press Release:

AC/DC Power Supply Features 3-Phase, High Voltage Input



ABSOPULSE Electronics has released the HVI 3K series ac/dc power supplies.  Designed for 3-phase, high voltage ac-input requirements, they are suitable for various industrial applications including servo drives, factory automation, and industrial machinery and equipment.



The 3kW power supplies operate from a 480Vac, 3-phase line input and deliver any single output voltage between 24V and 600Vdc. A DC-input version which accepts any voltage between 500V and 800Vdc is also available.



The units are built with three, heavy-duty internal power modules. A built-in redundancy diode separates each module and allows for a number of units to be connected in parallel to achieve higher output power, or N+1 redundancy.



To ensure high reliability and long operating life, all critical components on the primary side are designed and tested for corona inception levels significantly higher than the operating voltage. The input and output are filtered for low noise. The input meets EN55022 Class A conducted and radiated requirements with wide margins. The power supplies comply with EN/UL60950-1 and equivalent industrial safety standards. Full electronic protection eliminates the possibility of failure due to abnormal operating conditions, including application errors.



The supplies are ruggedized and all printed circuits are conformal coated, providing immunity to shock, vibration (IEC 61373 Categories 1 A&B) and moisture. Heavy ruggedizing can be provided to ensure reliable operation under severe environmental conditions. The sturdy enclosure has a total footprint of 187 x 132 x 407mm. Cooling is by high quality built-in fans.



Please contact the company for price and availability.