AC/DC Converter Control IC drives SiC MOSFETs.
Press Release Summary: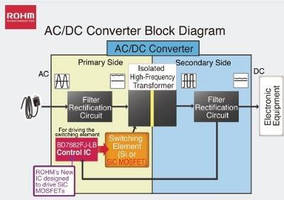 Designed specifically for SiC MOSFET drive in industrial equipment such as servers and other large power applications, Model BD7682FJ-LB includes multiple protection functions that enable support for voltages up to 690 Vac. Device integrates gate drive circuit as well as quasi-resonant system that delivers lower noise and higher efficiency versus conventional PWM methods. With support for 120 kHz switching frequencies, IC expands applicability.
---
Original Press Release:

The Industry's First AC/DC Converter Control IC for SiC Drive



Enables SiC MOSFET drive to achieve greater energy savings and miniaturization in industrial applications



SANTA CLARA, Calif. – ROHM has recently announced the development of an AC/DC converter control IC designed specifically for SiC MOSFET drive in industrial equipment such as servers and other large power applications.



The BD7682FJ-LB allows easy implementation of SiC MOSFETs with AC/DC converters. AC/DC converter design has proved challenging when using discrete configurations due to the large number of components required. In contrast, ROHM's latest product provides a highly integrated solution and creates new standards for energy savings and miniaturization while supporting the adoption of SiC power semiconductors that provide breakthrough levels of efficiency and performance.



Compared to silicon MOSFETs used in conventional AC/DC converters, SiC MOSFETs help improve AC/DC converter efficiency by up to 6%. Furthermore, components used for heat dissipation are not required, leading to greater compactness. The BD7682FJ-LB also includes multiple protection functions that enable support for high voltages up to 690VAC, making them ideal for general industrial equipment requiring high reliability.



In recent years there has been an increasing trend to conserve energy in all areas, making it necessary to adopt advanced power semiconductors and power supply ICs. Among these, SiC power semiconductors are expected to gain ground over silicon solutions due to their higher voltage capability, greater energy savings, and more compact form factor.



However, until now there has not been a control IC that can sufficiently draw out the performance of SiC MOSFETs, particularly in AC/DC converter systems. As a result designers are faced with numerous problems related to power consumption and stability in a variety of high power applications.



To meet these needs, ROHM utilizes market-proven analogy technology with SiC power semiconductor expertise to develop the industry's first AC/DC converter controller specialized for driving SiC MOSFETs.



Key Features



1. Provides breakthrough energy savings

The BD7682FJ-LB integrates a gate drive circuit optimized for SiC MOSFET drive by combining analog design technology with SiC power semiconductor development expertise. In addition, a quasi-resonant system delivers lower noise and higher efficiency vs conventional PWM methods, making it possible to maximize the performance of SiC MOSFETs used in AC/DC converters, resulting in significant power savings.



2. Contributes to unmatched miniaturization

Unlike with conventional Si MOSFETs, adopting SiC MOSFETs (which feature superior performance at high temperatures) in AC/DC converters eliminates the need for components used for heat dissipation, contributing to smaller, lighter AC/DC converter designs. Support for higher switching frequencies (i.e. 120kHz) is also ensured, expanding applicability while improving efficiency and lowering magnetic component costs (such as inductors).



3. Supports high voltage operation up to 690VAC

Multiple protection circuits enable high voltage operation in AC/DC converters up to 690VAC - ideal for general 400VAC industrial applications. And in addition to overvoltage protection for the supply voltage pin and a brown in/out (undervoltage) countermeasure for the input voltage pin, overcurrent and secondary overvoltage protection functions are included, ensuring continuous operation in industrial equipment while improving reliability considerably.



Contact: Jayme Pontious, 1-408-737-6259, jpontious@rohmsemiconductor.com



Web Site: http://www.rohm.com

More from Packaging Products & Equipment