AC and DC Power Sources deliver high-power, flexible control.
Press Release Summary: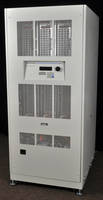 RS Series provides controlled AC and DC output for ATE and product test applications. In AC mode, series delivers 90-540 kVA of AC power. In DC or AC+DC mode, 50% of AC power level is available simultaneously. Products come in floor-standing chassis and achieve optimal power density via PWM switching techniques. Series can source and sink current as well as reverse phase relationship between AC input voltage and current to regenerates up to 85% of power back onto utility grid.
---
Original Press Release:

AMETEK Launches RS Series AC and DC Power Sources for High Power, Flexible Control



SAN DIEGO, CA - AMETEK Programmable Power (http://www.programmablepower.com) today introduced the California Instruments RS Series of high-power AC/DC power systems. The units provide controlled AC and DC output for a wide variety of ATE and product test applications at an affordable cost. In AC mode, the RS Series delivers anywhere from 90 kVA up to 540 kVA of AC power. In DC or AC+DC mode, 50 percent of the AC power level is available simultaneously.

The RS Series provides a powerful combination of high power density and simple installation. The RS Series offers the highest AC power density available for high-performance test applications. This high power density is achieved by using state-of-the-art PWM switching techniques that enables the RS Series to be packaged in a compact, floor-standing chassis with a footprint no larger than a typical refrigerator. Further, this high power density is achieved without the need for elaborate cooling schemes.

Output Flexibility
The base unit of the RS Series is the RS90. It provides up to 90 kVA of AC power or 60 kW of DC power. AC output is three phase and can easily be switched between AC and DC mode of output from the front panel.

For higher power requirements, up to 540 kVA, the RS180, RS270, RS360, RS450 and RS540 models are available. When outfitted with multiple controllers, these units can be made to work as though they were individual RS90 units and used for different applications. This ability to reconfigure the system provides a level of flexibility not commonly found in power systems.

The controller for the RS Series uses the latest DSP technology and allows users to define a wide variety of output waveforms, including outputs with harmonic distortion and waveforms that simulate AC and DC transients. The controller features control of individual phases separately, allowing users to simulate single phase anomalies and unbalanced harmonic line conditions.

To program these waveforms, a Windows program with a graphical user interface (GUI) is provided. Using the GUI, a user specifies the waveform to be output, and the program then generates the waveform data points and downloads them to the unit via remote interface. Each unit can store up to 200 waveforms in nonvolatile memory for easy recall.

A unique feature of the RS Series is that it can both source and sink (traditional 4-Quadrant type) current and can reverse the phase relationship between the AC input voltage and current in order to regenerates up to 85 percent of the power back onto the utility grid resulting in significant reduction in the cost of operation. This mode of operation is particularly useful when testing grid-tied products that feed energy back onto the grid. An example is testing grid-tied Photovoltaic Inverters.

The RS Series Makes Measurements, Too
The RS Series incorporates an advanced digital signal processor-based data acquisition system that digitizes voltage and current waveforms in real time. The sample buffer is 4K deep. Users can trigger waveform acquisitions at any point in the waveform output, such as a specific phase angle, to allow precise positioning of the captured waveform with respect to the AC source output.

The data acquisition system automatically monitors common AC and DC parameters, including frequency, Vrms, Irms, Ipk, crest factor, real power (W), apparent power (VA), and power factor, and displays them on the front panel LCD display. These measurements are also available via the GUI which includes data logging capabilities.

The system also provides detailed amplitude and phase information on up to 50 harmonics of the fundamental voltage and current (up to 16 kHz). Users can display this information in both tabular and graphical formats on the front panel LCD or download this information to a computer to display, print or save the data. Total harmonic measurements of distortion for both voltage and current are calculated from the harmonic data.

Avionics Stimulus Test Routines
With an output frequency range of up to 1,000Hz the RS Series is ideally suited for aerospace applications. A full suite of Avionics Stimulus test routines such as Mil.Std. 704 Rev. A-F, DO-160 Rev. A-F, B787 Rev. A-C, ABD100.1.8 Rev. D-E and A350 Rev. A-C are optionally available.

Easy to Use
The RS Series can be operated completely from its menu-driven front panel controller. A backlit LCD display shows menus, setup data, and read-back measurements. For remote control and ATE applications, users can use the standard RS232C, USB and IEEE- 488 or the optional LAN interfaces. The popular SCPI command protocol is used for programming, and instrument drivers for popular ATE programming environments are available.

Windows application software is included that provides easy access to the power source's capabilities without the need to develop any custom code. With this program, users can graphically measure and log standard measurements; capture, display, and print output voltage and current waveforms; capture, display, and print harmonic voltage and current measurements; create, run, save, reload, and print transient programs; generate and save harmonic and arbitrary waveforms; and display IEEE-488, RS232C, USB and LAN bus traffic to and from the AC Source to help you develop your own test programs.

Availability
The RS Series units are available 10-12 weeks after receipt of order.

For more information, contact AMETEK Programmable Power sales at www.programmablepower.com or contact an authorized sales representative.

AMETEK Programmable Power is a division of AMETEK, Inc., a leading global manufacturer of electronic instruments and electromechanical devices with 2010 sales of $2.47 billion.

Full data sheet and associated white papers are available at: http://www.calinst.com/go/rs

More from Test & Measurement