ABUTEC Selected for 18 Additional CDM Compliant Flares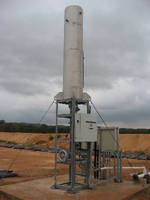 ABUTEC LLC, Kennesaw, Ga., received orders for 18 medium-temperature ground flare (MTF) units to handle the emissions from 18 biodigestor facilities. The project is an effort to reduce greenhouse gas emissions and requires strict emission monitoring and compliance, in accordance with Kyoto Protocol and the Clean Development Mechanism (CDM) initiatives. ABUTEC supplied 13 MTF units in early 2008 during Phase I of the CDM initiative. Once delivered, ABUTEC will have 31 CDM compliant flares installed in Mexico alone.

ABUTEC is an international manufacturer of environmentally friendly flares, vapor combustors, incinerators, and burners. ABUTEC's Low Emission technology offers up to 99.99% destruction efficiency with ultra low NOx and CO levels. For more information on ABUTEC, visit www.abutec.com.

Related