Applicator / Finishing / Cleaning Brushes
Abtex Introduces Long Trim Fiber Abrasive Brush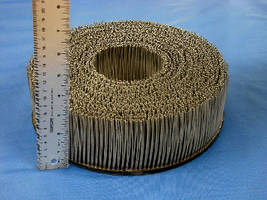 Abtex Corporation has introduced a new fiber abrasive brush that can deburr surfaces on multiple levels. The companys unique manufacturing process allows for the specification of long trim brushes with infinitely variable filament density and trim trim length.

The pictured brush is used to deburr the surface of a green powder metal part. The part has three half-inch protrusions requiring that the brush extend below the protrusions to deburr the target surface.

Abtex abrasive filaments are composed of heat stabilized nylon, which has been coextruded with an abrasive grit. Abtex anchors the filaments in a durable resin backing.

For information, call Abtex at 888.662.2839; e-mail sales@abtex.com or visit www.abtex.com. Abtex Corporation is at 89 Main Street, P.O. Box 188, Dresden, New York 14441. Telephone 315.536.7403, fax 315.536.0280.

More from Adhesives & Sealants