Absorbance Microplate Reader offers fast reading speeds.
Press Release Summary: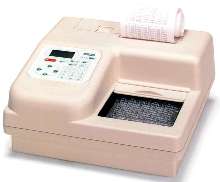 Model 680 offers on-board software capabilities and validation protocol as well as optional on-board printer and temperature control. Stand alone instrument may be controlled by PC using Microplate Manager PC software. Wavelength range is 400-750 nm. Model 680 reads 96-well plate in 6 sec in Fast Read mode and performs dual wavelength reads in 10 sec. Checkmark Reader Performance Check Plate IQ/OQ/PQ accessory kit is available to check performance parameters of accuracy, precision, and linearity.
---
Original Press Release:
New Bio-Rad Model 680 Absorbance Microplate Reader Delivers Performance and Speed at Low Cost
New Checkmark(TM) reader performance check plate kit validates Model 680, other Bio-Rad absorbance readers HERCULES, CA, August 26, 2002 - Bio-Rad Laboratories has enhanced the performance and value of its family of absorbance microplate readers with the introduction of the Model 680 instrument and also the Checkmark absorbance reader performance check plate kit. Model 680 microplate reader The Model 680 is positioned to offer the best value in a microplate absorbance reader in the low-priced segment of the market. It updates the popular, proven Model 550 reader and offers a number of useful new features at a competitive price. These include extremely fast reading speeds, extensive on-board software capabilities, on-board validation protocol (for Checkmark check plate), optional on-board printer and optional temperature control, all in a compact, lightweight unit. The instrument can be used stand-alone or controlled by a PC using Bio-Rad's user-friendly, feature-rich Microplate Manager PC software package. The wavelength range of the Model 680 is 400 - 750 nm, permitting the running of a great many applications, including Bio-Rad DC and RC/DC protein assays. The Model 680 reads an entire 96-well plate in six seconds in Fast Read mode, and performs dual wavelength reads in 10 seconds. Kinetic reading can also be programmed easily and run with Model 680 on-board software or controlled by a PC using Bio-Rad Microplate Manager (version 5.2) software. The instrument's extensive on-board software suite is well-suited for life science and clinical laboratories. The Model 680 includes: new security login features, allowing locking/unlocking key protocol settings by the administrator; generous room for protocol creation and storage: comprehensive curve fit selections and extensive reporting functions. On-board software also includes Bio-Rad's Checkmark reader plate protocol for validating the Model 680's performance (IQ/OQ/PQ) in compliance with GLP, as well as other life science and clinical protocols such as the Bio-Rad TSE kit and a growing number of clinical testing kits. The Model 680 microplate reader is based on the rugged, proven Model 550 platform, incorporating an 8-position filter wheel, 8 silicon photodiodes for measurement and 1 silicon photodiode for reference. Customers can choose from four instrument configurations: Basic, Basic with temperature control, Basic with internal printer and Fully Loaded. All come with four standard absorbance filters: 415, 450, 490 and 655 nm. There are six additional filter options: 405, 540, 550, 570, 595, 630 and 750 nm. Bio-Rad also supplies custom filters at 5 nm intervals from 400 through 750 nm on request. The optional wide format internal thermal graphical printer saves counter space and simplifies stand-alone operation. The Model 680 can also be used with an external printer with or without a PC. The temperature control option lets users adjust the incubator from 5°C above ambient (minimal temperature setting is 25°C) to 45°C in 0.1°C increments. Bio-Rad has also added a three-speed plate shaking function, a larger LCD screen and improved membrane keypad for easier use. Checkmark Reader Performance Check Kit In addition to the Model 680, Bio-Rad's new Checkmark Reader Performance Check Plate IQ/OQ/PQ accessory kit is also compatible with the company's other absorbance microplate readers: Model 3550, Model 550, Model 680, Benchmark(TM), Benchmark Plus(TM), Ultramark(TM) and Ultramark EX(TM). The Checkmark kit includes: a serialized Checkmark plate, software, instruction manual and reference files, declaration of conformity and certificate and reference value sheet for plate-specific calibration, certification and reference values. Checkmark checks the key reader performance parameters of accuracy, precision and linearity, and well as the performance parameters of plate positioning, crosstalk, filter check, 0 OD and Overflow and IR-blocking. "This new kit is a valuable tool for customers to validate the key performance factors of their Bio-Rad absorbance readers," explains Microplate Product Manager Li Tian. "The Checkmark plate also helps Bio-Rad Technical Support and Instrument Service personnel troubleshoot instruments to quickly assure confidence in their performance." The Checkmark reader performance check kit ensures GLP (Good Laboratory Practice) compliance of the above Bio-Rad instruments with a complete NIST-traceable IQ/OQ solution. The plate and software permit the automatic checking, printing and recording of all the above performance parameters. A security login feature further enhances user confidence in the results, allowing different levels of control - Bio-Rad administrator, local administrator, common user - to be set up for each of the users. A Checkmark protocol is preprogrammed in the Model 680 microplate reader, and the full Checkmark software runs on a Windows based PC (Win 95/98/NT/2000/ME/XP) for all compatible reader instruments. Bio-Rad Laboratories, Inc. (www.bio-rad.com) is a multinational manufacturer and distributor of life science research products and clinical diagnostics. It is based in Hercules, California, and serves more than 70,000 research and industry customers worldwide through a network of more than 30 wholly owned subsidiary offices. For more information call 800-424-6723 (800-4BIO-RAD) or visit us on the web at discover.bio-rad.com All trademarks and registered trademarks are properly of their respective holders. Contact: Li Tian Product Manager, Microplate Bio-Rad Laboratories, Inc. Phone: (510) 741-6808 E-mail: li_tian@bio-rad.com
More from Agricultural & Farming Products