Absolute Encoders target servo motor applications.
Press Release Summary: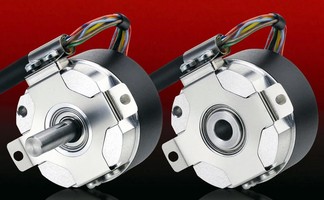 Measuring 37 mm diameter and operating up to 120°C, Acuro(TM) AD34 and AD35 Series utilizes OptoASIC engine for absolute positioning and speed feedback up to 10,000 rpm. Units are available with unbreakable Mylar code disc capable of up to 17 bits of single-turn resolution. They can provide fully digital position data over BiSS interface with variable clock rate up to 10 MHz. Integrated diagnostic system controls and regulates data signals within encoders.
---
Original Press Release:

Dynapar Introduces High Speed Absolute Encoder for Servo Duty



Gurnee, IL - January 22, 2008--Dynapar announces the introduction of the compact Acuro(TM) AD34 and AD35 Series absolute encoder. The new encoder utilizes the company's proven OptoASIC engine for reliable absolute positioning and speed feedback up to 10,000 RPM. This high-speed capability coupled with an operating temperature range of up to 120oC makes it perfectly suited for use in servomotor applications. In addition to its compact 37mm diameter and short mounting depth, the AD34/35 absolute encoder is available with an unbreakable Mylar code disc (100oC maximum temperature) capable of up to 17 bits of singleturn resolution.

Fully Digital Control Loop
The new OptoASIC technology is 100 percent digital and enables the user to transition to a truly digital drive system. Conventional users will benefit from the available analog sine wave signals for feedback of speed and position data. In addition, the new absolute encoder will provide fully digital position data up to 17 bits over the BiSS interface with a variable clock rate up to 10 MHz. Backward compatibility to most existing drives is not a problem when the unit is ordered with SSI + analog output with 2048 sine/cosine periods per revolution.

Integrated Diagnostic System
The AD34/35 has an integrated diagnostic system that controls and regulates the data signals within the encoder. Maximum motor uptime is achieved through monitoring of system errors or component aging well before they affect the functionality of the encoder. A code plausibility check guarantees that the output data always represents true position, and operating temperature can be measured and read with eight bit resolution. If programmable limits are exceeded, then the data are transmitted over warning and alarm bits.

Special Mounting Shaft Saves Time and Money
The AD34 absolute encoder has an industry-exclusive notched 6mm shaft. What makes this notched shaft unique is its one-step mounting process. The user simply presses the encoder on the motor shaft in one smooth motion and then secures the supplied flexible tether or torque arm. The small notch in the shaft creates a friction fit within the motor shaft, providing a solid mount with high torque transfer without the use of adhesives, mounting screws, or keyways. The encoder is just as easily removed by reversing the steps. The AD35 has a traditional hub shaft arrangement that eliminates the need for flexible couplings.

Price and Availability
The AD34/35 encoder is built to order and immediately available for the general market. Dynapar will market the encoder under its Hengstler brand name, and list pricing starts around $275. For custom OEM applications and volume pricing, contact a Dynapar representative at 800-873-8731 or visit the web at dynapar.com/ServoSolver .

About Dynapar
Dynapar is a world-leading manufacturer of optical and magnetic encoders and resolvers with more than 50 years of experience in engineering and manufacturing rotary feedback devices. Dynapar was founded in Gurnee, Illinois in 1955 and has been expanded through the acquisitions to include Dynapar(TM) Hengstler(TM), Acuro(TM), NorthStar(TM), and Harowe(TM) brand product lines. Dynapar is now uniquely a provider of technologies spanning optical, magnetic, and resolver based feedback.

Pioneering the first true vector-duty hollow-shaft encoder launched Dynapar's strong presence in several industries, including steel, paper, elevator, oil and gas, wind energy, medical, material handling, and industrial servo manufacturers. From small kit encoders to large mill-duty tachometers, Dynapar has the industry covered.

Dynapar customers rely on expertise and support provided from the U.S. sales and manufacturing location in Gurnee, Illinois: Phone +1 800.873.8731 or +1 847.662.2666; FAX +1 847.662.6633; Website: www.dynapar.com. In addition, Dynapar supports global customers with local sales and production locations in Germany, Japan, China, and Brazil.


More from Mounting & Attaching Products