Abrisa Technologies Machines Ultra-Thin Glass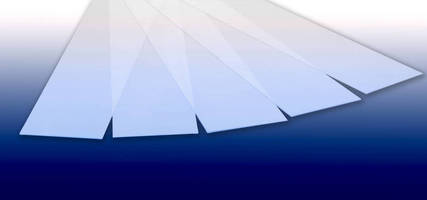 Abrisa Technologies carries a diverse inventory of thin and ultra-thin glass which can be CNC machined, fabricated, screen printed, strengthened and thin film coated. Glass stocked ranges in thicknesses from 1.1mm down to 0.1mm. Thinner substrates with a thickness as low as 0.05mm are available for specialized application-specific requirements.

 

Our precision CNC cutting equipment in addition to fabricating simple rectangles and circles can also produce intricate shaped parts, slots, holes, curves and more. The Abrisa Technologies highly trained staff are at the forefront of thin and ultra-thin glass cutting, utilizing the latest techniques and machine systems available to achieve clean cuts at standard tolerances of ±0.004"; and in some cases, ±0.002".

 

Thin and ultra-thin glass is stocked in a wide variety of borosilicates, alkali-free borosilicates, and aluminosilicates:

 




Corning® Willow® Glass – (0.1mm thickness from stock, sizes up to 24" x 24")



Corning® EAGLE XG® (0.5mm – 1.1mm from stock, 0.3mm on request), 0211, 1737, and 7059



SCHOTT D263® T eco (0.1mm – 1.1mm from stock)



Asahi Glass Company (AGC) – EN-A1 (0.3mm – 0.7mm from stock, up to 26.3" x 21.6")



Corning® Gorilla® Glass – Strengthened size up to 36" x 29" (0.55mm – 2mm from stock)



The company's thin film coating capabilities complement the glass fabrication and include narrow and broadband transparent conductive (ITO and IMITO), anti-reflective (AR) coatings, and design-to-order custom coatings. Abrisa Technologies' thin and ultra-thin glass is the ideal solution for applications requiring high chemical resistance, thermal shock resistance, or scratch resistance, excellent surface quality or specialized optical properties.

 

Typical Applications for Thin and Ultra-Thin Glass include:

 




Slim Curved Displays, Smart Surfaces Touch Panels, LCD, LED & OLED



Electroluminescent Displays, Optical Windows, Filters, Sensor Technology



Slides, Wafers, MEMS, Circuit Substrates and Chip on Glass Applications



Spatial Light Modulators, Micro-Displays, and Optical Shutters



Strengthened Solutions for Scratch, Smudge, and Impact Resistant Cover Glass



 Abrisa Technologies is a recognized global supplier of high quality, fabricated glass components, optical thin film coatings, and custom glass solutions for a wide variety of industries. From our US based Abrisa Industrial Glass fabrication facility in Santa Paula, CA and our ZC&R Coatings for Optics division in Torrance, CA we serve diverse industries such as microelectronics and displays, semiconductor, military, automotive, aerospace, medical, biomedical and scientific R&D. We provide custom specialty flat glass and coating products for applications such as: flat panel display, touch and gesture recognition; visible to IR imaging and surveillance; entertainment, indoor and outdoor lighting; advanced instrumentation; and photonics.



More from Agricultural & Farming Products