Abriox's New Osprey Pressure Monitoring System Offers Continuous Monitoring without On-Site Personnel
Press Release Summary: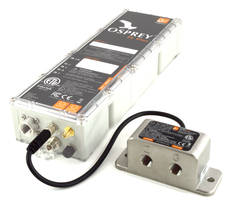 Abriox's Osprey Gas Pressure Monitoring System is offered in single and multi-channel models and is certified to Class 1, Division 1 standards. Unit is equipped with a GPS module that provides exact time and date of every pressure measurement. Osprey comes with 'fit and forget' monitor and PressureTrac software package for interfacing with asset management software. Incident Evaluation Mode (IEM) provides remedial work in case of fluctuating pressure, poor pipe design, freezing temperatures or water ingress condition.
---
Original Press Release:
Abriox Introduces Wireless Pressure Monitoring System That is Affordable, Portable and More Accurate Than Other Devices on the Market
CINCINNATI, Ohio (April 24, 2018) The U.S. Energy Information Administration (EIA) reported that natural gas production will rise more than expected—by nearly 1 billion cubic feet per day—in 2018 due to an uptick in exports and gas-fired electricity generation. To help distribution companies improve network efficiency, Abriox has introduced Osprey, a remote gas pressure monitoring system designed to save time and money while improving the quality and reliability of data collection.
Osprey delivers higher accuracy than loggers, meters and chart recorders. The system provides continuous monitoring without the need for on-site personnel or maintenance, giving users a rapid return on investment. The wireless, portable device is quick to install and generates instant alerts to indicate abnormal pressure levels in distribution networks.
Certified to Class 1, Division 1, Osprey is available in single and multi-channel models, offers flexible pressure ranges and has a sensor accuracy of ± 0.15 percent FS. A key feature of Osprey is its built-in GPS module. In addition to displaying its geographical location, the data collected from satellites allows Osprey to establish the exact time and date of every pressure measurement it records. Other devices on the market are subject to electronic drift, making their data less accurate and requiring companies to manually realign measurements. Osprey eliminates this problem.
"Osprey can be deployed in a poor pressure situation and it will immediately start generating accurate readings to a cell phone using text messaging," says Abriox Sales Manager Rich Williams. "This is the equivalent of sending an engineer to the site and repeatedly asking him for pressure data—but without the costs."
In cases of fluctuating pressure, poor pipe design, freezing temperatures or water ingress, the system is equipped with Incident Evaluation Mode (IEM) for fast deployment of investigative or remedial work. Osprey can run in IEM mode permanently at sites that require constant updates for the cost of just two sets of commercially available batteries a year. The batteries can be installed by the user without the need to return the unit to Abriox.
The compact Osprey has a long operating life and requires minimal maintenance. Its superior accuracy and configurable data collection options make compliance with regulatory requirements transparent. Osprey has a small carbon footprint and its autonomy promotes safer working conditions for personnel. The 'fit and forget' monitor, with its large data capacity and reliable remote communication, gives companies dedicated monitoring which can link to their business planning model. Abriox's PressureTrac software package is designed to interface with a user's modeling or asset management software and can automate the process. 
Remote monitoring specialist Abriox is a world leader in cathodic protection monitoring. Its Merlin CP system has been adopted by major oil, gas and petrochemical companies in North and South America, Europe, Asia and the Middle East. Its newest product, Osprey, provides repeatable, remote gas pressure monitoring for timely and economical analysis. With headquarters in the United Kingdom and the United States, Abriox is committed to designing and manufacturing solutions engineered to meet the monitoring needs of the oil, gas and energy markets.
Visit www.abriox.com or contact Sales Manager Rich Williams at richard.williams@abriox.com.
Media Contact:
Ms. Lynn Stanley
Cell: (937) 760-5710
Email: stanleymedia@tx.rr.com
More from Communication Systems & Equipment