Abrasive Grinding, Cut-Off Wheels stay sharp for extended use.
Press Release Summary: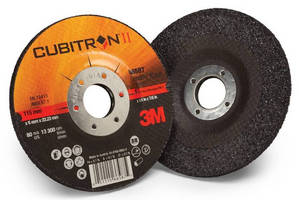 Featuring precision-shaped grains that continuously fracture to form sharp points and edges, 3M™ Cubitron™ II bonded abrasive grinding and cut-off wheels slice clean and retain sharpness. Type 27, Grade 36+ depressed center grinding wheels (4–9 in. dia) support 80 mps max speed and offer max rpm ratings from 6,650–15,300. Ranging from 3–7 in. dia, there are 30 grade 36+ and 60+ cut-off wheels (types 1 and 27) that range from 0.035–9 in. and offer max rpm ratings from 8,500–25,465.
---
Original Press Release:

Introducing 3M(TM) Cubitron(TM) II Bonded Abrasive Grinding and Cut-Off Wheels



New technology revolutionizes the grinding process



ST. PAUL, Minn. – 3M Abrasive Systems introduces 3M™ Cubitron™ II Bonded Abrasive Grinding and Cut-Off Wheels, a revolutionary new technology that reinvents the grinding process. With Cubitron II abrasives, users get precision-shaped grain technology that cuts faster, stays sharper longer, and requires less pressure than conventional grinding and cut-off wheels. In addition, the abrasives can help reduce operator fatigue and increase productivity.



"This technology is the most important change in abrasives in the last 20 years," said Dan Cunningham, Director Sales and Marketing, 3M Abrasive Systems. "We've utilized 3M's core technology platforms to create products that enable customers to produce more each day, while also helping reduce the impact on their workers."



Conventional ceramic abrasive grains are irregular in shape, and work by "plowing" through metal, which can cause heat buildup, slower cutting and shorter life. But the precision-shaped grains in Cubitron II grinding wheels continuously fracture to form sharp points and edges. This technology helps Cubitron II abrasives slice cleaner and faster, stay cooler, and last longer than conventional wheels.



Cubitron II abrasives offer performance that dramatically surpasses that of traditional grinding wheels made with aluminum oxide, alumina zirconia or ceramic grain. In fact, competitive products require up to three times the amount of pressure to match the cut of Cubitron II abrasives. With the advantages of 3M's technology, operators are subjected to less wear and tear, and can remove more material with the same amount of effort. It all adds up to improved productivity, achieved in a way that is good for the business and for workers. In fact, 3M has created a tribute video to grinder operators, "Grindstone Cowboy," which can be seen at www.3mcubitron2.com/rocks or http://www.youtube.com/3Mabrasives



"Operators have a tough job, so it's our hope that 3M's new Cubitron II bonded abrasives can make it easier on them, while still performing exceptionally on the shop floor," continued Cunningham.



A wide variety of industries stand to benefit from these advancements, including ship building; structural steel; general metal fabrication; oil and gas; and agriculture, industrial and construction machinery. Cubitron II abrasives offer potential for operators in all of these fields to easily increase efficiency.



To learn more about Cubitron II abrasives, visit www.3M.com/cubitron2.



About 3M

3M captures the spark of new ideas and transforms them into thousands of ingenious products. Our culture of creative collaboration inspires a never-ending stream of powerful technologies that make life better. 3M is the innovation company that never stops inventing. With $30 billion in sales, 3M employs 84,000 people worldwide and has operations in more than 65 countries. For more information, visit www.3M.com or follow @3MNews on Twitter.



3M and Cubitron are trademarks of 3M Company.

More from Machinery & Machining Tools