ABC Sheet Metal's New Inspection Software, FARO's - CAM2 Q - Speeds, Simplifies Measurement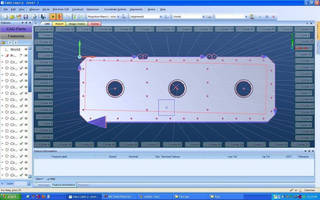 Anaheim - Steeldyne Industries DBA ABC Sheet Metal, a privately held ISO 9001:2008 manufacturer has recently implemented software from FARO, the world leader in portable computer-aided measurement hardware and software: CAM2 Q. "This software will allow us to greatly improve our manufacturing quality with minimal impact on delivery times." ABC Sheet Metal Vice-President Rich Duveneck said. "Balancing quality with price and delivery is the biggest challenge we face in the global marketplace, FARO's new software will help us achieve our goals."

ABC Sheet Metal made the investment in FaroArm technology over 6 years ago when pursuing its ISO 9001:2001 certification. Recently re-certified to ISO 9001:2008, the FaroArm portable CMM (coordinate-measuring machine) with the capability to accurately measure large parts, quickly became an integral part of the manufacturing process. With CAM2's ability to import CAD files directly for immediate inspection, inspections can be taken more quickly and/or more often during production.

ABC Sheet Metal has been in continuous operation since 1870 and utilizes the latest technology in metal manufacturing. It currently services OEM's and end-users in a wide variety of industries including medical, defense, packaging, building materials and construction, electrical equipment and electronics, commercial display, oil and gas, transportation, and heating/cooling.

For more information please visit www.abcsheetmetal.com.

More from Software