AAEON's Infotainment Multi-User and Multi-Touch Display ACD-521M Wins Best Choice Award at Computex 2013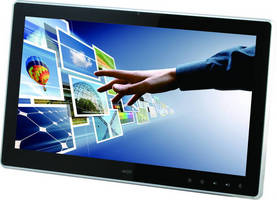 Taipei, Taiwan – AAEON, a leading industrial computing company, is the proud recipient of the 2013 Computex Taipei Best Choice Award for its ACD-521M under the "IPC Embedded Products" category. The ACD-521M has been recognized as the most distinguished and exceptional product in its class.



The ACD-521M is a slim 21.5" Full HD infotainment multi-user and multi-touch display with cutting-edge Multi-User technology, Projected Capacitive Multi-Touch panel and an IP65 waterproof front bezel design. Featuring anti-scratch glass with hardness index greater than 7H, the ACD-521M is the product of choice for retail, hospitality and high-precision manufacturing. AAEON is a pioneer when it comes to releasing a Multi-User display in the Industrial Automation Market. With this state-of-the-art Multi-User technology, the system host computer is able to share resources with up to 20 users simultaneously to help save on hardware, LAN development and manpower maintenance costs.



The ACD-521M offers two-finger multi-touch for easy zooming and friendly front panel buttons for display settings. With a 16:9 aspect ratio, default resolution of 1920x1080 and stunning 16.7M colors, the ACD-521M is well-suited for watching Full HD videos at hotel front desks and lobbies or on retail display shelves. Another advantage over consumer displays is the non-gap IP65 rated front bezel design and IPx1 water protected back chassis, making the ACD-521M more durable against accidental spills and dust. In addition, the USB2.0 ports facilitate the integration of key peripherals and display systems for diversified self-service and promotional usage in varying applications. This product is ideal for airport, meeting/demo room and retail store applications.



"The ACD-521M is elegantly designed for retail and hospitality industries, whereby consumers can view the latest information and advertisements and interact with the display," said Alan Chou, Product Manager of AAEON's Panel Appliance Automation Division. "Another major application for this durable display with its multi-touch feature is in today's manufacturing plants, where quality inspection staff can easily enlarge images to locate cracks and faults which may have occurred during production and help fix problems timely and efficiently."



AAEON ACD-521M outweighs the existing product design concept and architecture of the IPC market with significant energy consumption and procurement savings. Furthermore, the ACD-521M supports cloud computing technology with complete computing processing functions (No CPU/OS/memory/HDD). With its Multiple-User technology, 21.5" screen, multi-touch projected capacitive panel, IP65 certified front panel and waterproof, dust-proof, and scratch-resistant feature sets, this rugged design makes the ACD-521M a highly desirable product in the industrial automation market.



For more product information, please contact your regional professional sales representative or visit www.aaeon.com.



About AAEON



AAEON Technology, Inc is a leading manufacturer of advanced industrial and embedded computing platforms. Committed to innovative engineering, AAEON provides integrated solutions, hardware and services for premier OEM/ODMs and system integrators worldwide. Reliable and high quality computing platforms include industrial motherboards and systems, industrial displays, rugged tablets, PC/104, PICMG and COM modules, embedded SBCs, embedded controllers and related accessories. AAEON also offers customized end-to-end services from initial product conceptualization and product development on through to volume manufacturing and after-sales service programs. AAEON is an Associate member of the Intel® Intelligent Systems Alliance. From modular components to market-ready systems, Intel® and the 200+ global member companies of the Alliance provide the performance, connectivity, manageability, and security developers need to create smart, connected systems.

More from Laboratory and Research Supplies and Equipment