A-Frame Picking System handles up to 1,200 orders per hour.
Press Release Summary: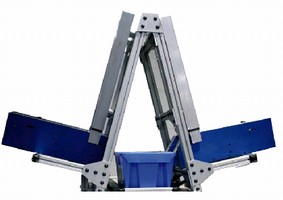 Designed to handle product sizes from 1.5 x 1 x .25 in. to 12 x 12 x 3 in., Pick-MAX Auto(TM) consists of multiple dispensers that hold vertical stack of product to dispense onto conveyor. System removes bottom item from vertical stack individually based on order requirements and offers stack heights to 6 ft. Adjustable dispense speed allows soft handling of delicate items. Each dispenser includes low level and out of stock sensors as well as replenishment indicator.
---
Original Press Release:
For Lower Cost, More Reliable Picking Take the A-Frame
Pick-MAX Auto(TM) from IPTI Ideally Suited For High Volume Picking Applications (Ixonia, WI) - IPTI, Inc. introduces Pick-MAX Auto(TM), the lowest cost A-Frame picking solution available on the market for high volume applications with the quality and reliability IPTI customers have come to expect. The Pick-MAX Auto system consists of multiple "dispensers" that hold a vertical stack of product to dispense onto a conveyor using a patent pending actuating mechanism. The system removes the bottom item from the vertical stack individually based on order requirements. Each dispenser is adjustable for a vast array of product sizes. For higher volume items assign multiple dispensers to each item; a single dispenser handles slower moving items. System controls direct dispensers to actuate based on the order of the totes that pass by the dispenser. An RFID tag on each tote stores the requirements for every item in the tote, eliminating complicated centralized controls. The result is higher accuracy orders (nearly 100%) at a lower cost. Depending upon the product profile, each Pick-MAX Auto A-Frame can handle up to 1,200 orders per hour. Adjustable dispense speed allows soft handling of delicate items Stack heights can reach up to six feet depending on product configuration. The Pick-MAX Auto vertical stack design allows the dispensers to be replenished while the machine operates. Each dispenser is supplied with low level and out of stock sensors as well as with a replenishment indicator light directing replenishers to those dispensers most in need of replenishment. Adjustable dispense speed allows delicate item soft handling. Stack heights can reach up to six feet depending on product configuration. The A-Frame handles product sizes ranging from 1.5" W x 1" L x .25" H to 12" W x 12" L x 3" H. The simplicity of the Pick-MAX Auto means very low maintenance. Their plug-in-and-play design enables dispenser installation and change-out in just seconds. IPTI continually develops innovative pick to light products and systems for material handling operations world-wide. The company first introduced the Snap-In BUS concept; going on to engineer products that meet a number of customer needs while creating software customized to their businesses. IPTI products utilize open architecture and are therefore the choice of integrators across the country. Please send leads to: Darin Danelski President/Innovative Picking Technologies, Inc. W1236 Industrial Dr. Ixojnia, WI 53036 Tel: 262-567-6525 Email: darin@ipti.net
More from Electronic Components & Devices