84855104 BDE PRO Motor Drive comes with overvoltage protection.
Press Release Summary: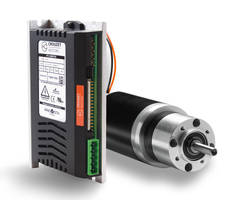 Featuring red/green LED indicators for operation status, 84855104 BDE PRO Motor Drive controls speed and torque of motor. Having performance characteristics ranging from 25A peak current and 15A continuous current, unit supports Hall-effect sensor and incremental encoder type feedback. Designed to optimize operation of 15W to 100W DC mind brushed motors, drive is suitable for medical applications and comes in 5.1 in. x 3in. x 1in. panel-mount package.
---
Original Press Release:
New Controller Optimizes Motor Performance and Provides Rapid Prototyping
Crouzet North America introduces the BDE PRO, a high performance external motor drive specifically designed to optimize operation of five of Crouzet's ultra-quiet DCmind brushed motors ranging in size from 42mm to 62mm diameter and in power from 15W to 100W. This new analog controller is suitable for use in a variety of markets including medical, access control, commercial and industrial applications, and is ideal for rapid prototyping for new product development.
The 84855104 BDE PRO controls motor speed and torque with extreme precision in a compact panel-mount package that measures just 5.1" x 3" x 1". Performance characteristics include a power range of 25A peak current and 15A continuous current while supporting both Hall-effect sensor and incremental encoder type feedback. Other features include a red/green LED that indicates operating status and three operation modes for current, encoder velocity or duty cycle.
"The BDE PRO is Crouzet's highest functionality motor controller and is specifically 'tuned' to optimally drive DC brush motors at a high switching frequency," says Robert Derringer, Channel Management and Product Marketing Director for Crouzet North America. "Although intended as an optional counterpart for Crouzet DCmind brushed motors, the device is easily configured for use with DCmind brushless motors, and can also be used for many other motor types with simple changes in DIP switch and potentiometer settings."
When used with Crouzet DCmind motors, the cost effective system helps customers more precisely control the DCmind motor series, which is increasingly in demand for applications where silence, long life, efficiency and low EMC levels are required.
The unit's powerful control capabilities meet a variety of application needs. In the case of medical applications where a constant gentle velocity may be required, the BDE PRO can drive the motor at a gentle pace while being able to stop if needed. Its 4-quadrant operation allows the motor to go clockwise and counterclockwise quickly, and to stop immediately as needed, an important requirement in medical applications such as imagery, surgical equipment, mobile robotics, and precision pumps.
The new drive is fully protected against overvoltage, under-voltage, overcurrent, overheating and short circuits across motor, ground and power leads. It can interface with digital controllers or be used stand-alone, and requires only a single unregulated DC power supply. Loop gain, current limit, input gain and offset can be adjusted using 14-turn potentiometers. An offset adjusting potentiometer can also be used as an on-board input signal for testing purposes. The BDE PRO is certified under UL, cUL, CE and RoHS,
For more information, visit: http://motors.crouzet.com/BDEPro or contact: Bob.Derringer@Crouzet.com, Tel: 1-855-929-5465 x 722 (2945 Townsgate Rd, Suite 200, Westlake Village, CA 91361)
About Crouzet
Crouzet North America is a subsidiary of Crouzet Automatismes SAS headquarterd in Valence, France, a nearly 100-year old company with manufacturing facilities and sales offices on four continents. Crouzet is committed to the automation and control of a wide-range of applications and markets, including industrial equipment, building automation, access control, rail and off-road transportation, nuclear and industrial valves, and many more. Crouzet's product lines include standard and specialized control devices, logic controllers, nano-PLCs, limit switches, microswitches and other snap-action switches, and fractional horsepower motors. Crouzet has a heritage of close collaboration with its customers in the development of adapted products to fully customized solutions
Contact:
Crouzet North America
Robert Derringe
Email: bob.derringer@crouzet.com 
More from Mechanical Power Transmission