Hardhat Adaptor facilitates use of hearing protection devices.
Press Release Summary: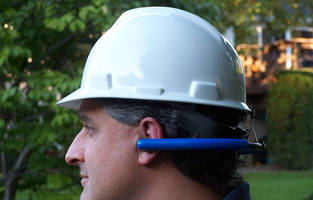 SensGard® Hardhat Adaptor allows workers in hardhat environments to use SensGard SG26 or SG31 hearing protection devices. Adaptor clips to back of virtually any hardhat, and, combining either model with Hardhat Adaptor has total weight of less than 2 oz. Rugged and durable, devices tolerate hot and cold temperature extremes. Models SG26 and SG31 have noise reduction ratings of 26 and 31 decibels, respectively.
---
Original Press Release:

New Sensgard® Adaptor Brings Comfortable, Cost-Effective Hearing Protection to Hardhat Environments



Rochester, NY - The new SensGard® Hardhat Adaptor allows workers in hardhat environments to use comfortable, cost-effective SensGard hearing protection devices. The new adaptor clips to the back of virtually any hardhat and is designed for use with either the SensGard SG 26 or SG 31 hearing protection model. The SensGard system, combining either model with the Hardhat Adaptor, weighs less than 2 ounces, yet both components are rugged and durable, even in hot and cold temperature extremes. The SG26 and SG31 have noise reduction ratings of 26 and 31 decibels, respectively, making the SensGard system ideal for use in extreme noise environments, including construction, manufacturing, energy/utility/nuclear power plants, refineries, and mining operations.

The SensGard SG 26 and SG31 incorporate patented ZEM technology that uses the mechanical energy of sound waves instead of electronics to minimize sound before it reaches the ears. The devices offer many benefits over ear muffs, ear plugs and ear bands:

o They provide superior, consistent protection without distortion across all frequencies. The wearer is fully protected from harmful noise but can still discern

o speech and other important ambient sounds.

o They cost significantly less than ear muffs and are much more cost effective in day-to-day use than ear plugs.

o Glasses and safety goggles will not compromise the product fit or performance.

o The lightweight hearing protection device and adaptor are comfortable to wear, even in hot, humid environments.

For more information about SensGard Hardhat Adaptor, visit www.sensgard.com. Or contact SensGard at P.O. Box 341, Fairport, NY 14450, (877) 208-0883.

SensGard, LLC manufactures hearing protection utilizing a patented new technology for sound cancellation. SensGard products are recommended for use in manufacturing, construction and other high-noise environments that can cause permanent hearing damage.

FOR MORE INFORMATION CONTACT:

Robert J. DiNardo

SensGard LLC

(585) 218-4080

[email protected]