CAM Software supports mass production of wood furniture.
Press Release Summary: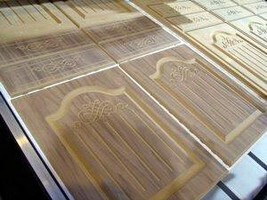 Featuring vector-based design, extensive 2D, and basic 3D machining functionality, ArtCAM Insignia 2008 allows woodworkers to import, scale, position, and machine 2D and 3D decorations and textures onto their designs. It nests various elements onto multiple sheets and groups them by material and thickness. Software supports formats including STL files from any CAD system, designs from Alias Wavefront, 3D Studio, and other ArtCAM systems.
---
Original Press Release:

Delcam to Show ArtCAM Insignia for Woodworking Mass Production at LIGNA



At the LIGNA exhibition to be held in Hannover from 14th to 18th May, Delcam will launch a new version of its ArtCAM Insignia CADCAM software with a much greater emphasis on mass production applications in the woodworking industries. Previously, the software has been used mainly for the design and manufacture of one-off or short run items, in particular signs. The new version builds on this functionality to give a superior solution for mass production of items like cabinets or other decorated furniture.

ArtCAM Insignia 2008 includes vector-based design, extensive 2D machining and, for the first time, basic 3D machining functionality. Like all the ArtCAM range, the software is aimed at skilled artisans rather than engineers and requires little knowledge of engineering or computing. It allows woodworkers to import, scale, position and machine 2D and 3D decorations and textures onto their designs, and so to manufacture more distinctive and more attractive products. Formats supported include STL files from any CAD system, plus designs from Alias Wavefront, 3D Studio and, of course, other members of the ArtCAM family.

Alongside the increased machining functionality, the main addition to the latest release is a highly-automated method for the manufacture of designs imported as layered DXF or pdf files from other CAD systems. Whatever the origin of the design, ArtCAM Insignia will first automatically nest the various elements onto multiple sheets, correctly grouping them by material and thickness. Different numbers of multiple copies of various design elements can be generated and arranged within the layers.

The system then generates toolpaths using pre-defined templates. These templates allow any combination of machining strategy, cutting tool and machining parameters to be assigned to each layer within the design. The toolpaths are calculated for each layer, using the cut depth extracted from the DXF or pdf data.

The calculated toolpaths can be simulated within ArtCAM Insignia, if required, before being output to the machine. More than 180 machine tool control options are supported, including those featuring automatic tool changing.

The machine tool options include support for drill banks. Multiple drilling heads can be programmed to drill an array of holes simultaneously and the pattern of holes can be duplicated a number of times across a sheet of material.

The tool database within ArtCAM Insignia is similarly comprehensive, including many complex carving tool shapes. Three of these - Ogee, Roman Ogee and Roundover - are among the most commonly used raised-panel tool shapes in the furniture and similar industries. They are very popular for producing attractive edge finishes efficiently.

For further information on ArtCAM Insignia, please contact:-
Peter Dickin,
Public Relations Manager
Direct Phone: +44 121 683 1081
e-mail: pjd@delcam.com

Web site:
www.delcam.com

More from Electrical Equipment & Systems