800 - 3000 Watt Programmable Single Output Power Supply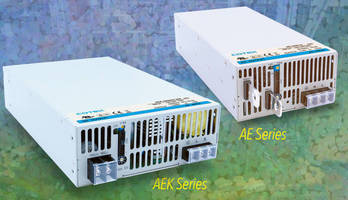 Wrentham, MA — Power Sources Unlimited, Inc. continues to expand upon our line of ultra-high efficient, single output, programmable AC-DC power supplies with the AE Series (800, 1500 and 3000W) and AEK Series (3000W) from Cotek Electronics. Key applications include factory automation, off-site test and measurement and communications equipment.

All models feature programmable output voltage and output current (0%~105%), universal ac input of 90–264VAC and dc input of 127-370VDC with active power factor correction (PFC). The AE and AEK-LV Series have output voltages of 12, 15, 24, 30, 36, 48 and 60VDC and the AEK-HV Series offers high output voltages of 150, 200, 250, 300 and 400VDC.  Additional features include –20 to +60° wide operating temperature range, intelligent LED indicators, built-in I²C serial data bus, forced current sharing at parallel operation, power OK signal, remote on-off, remote sense and constant current limit suitable for battery charging application. Safety features include over-voltage, over-load and over temperature (with auto-recover) protection and fan failure.  World-wide safety approvals in accordance CE, TUV and UL.

Unit price range is under $200.00 to $800.00 depending upon wattage and series in OEM quantities. Prototype quantities are available stock to 6-8 weeks after receipt of order. All models come with a three year warranty.

PSUI is the ISO 9001:2008 North America Authorized Distributor for Cotek Electronics.

Download full specifications and procure parts online at https://psui.com/product-category/1-ac-dc/ac-dc-programmable/. For sales or applications inquiries, please contact Power Sources Unlimited Inc. toll free at 800-966-PSUI(7784) (USA only) or 508-384-1419 or email sales@psui.com. PSUI is an ISO 9001:2008 Certified company.
More from Computer Hardware & Peripherals