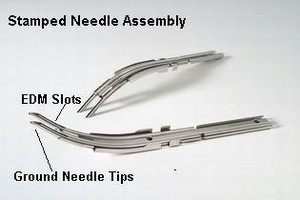 OKAY's creative engineering and out of the box approach during new product development has created another product offering the company defines as the "80% Stamping(TM)". The "80% Stamping" is created when OKAYs' engineers convert a product originally produced from conventional manufacturing methods, such as fully machined, investment cast or metal injected molded (MIM), into a metal stamping with minimal secondary machining.

OKAY has made a significant investment in new 4-Axis CNC machining and Wire EDM equipment and hired experts in 3-D modeling and machining prototyping technologies. This new initiative focuses on stamping a considerable amount of features on a product and then machining the remaining specifications.

By combining the material savings from high volume stamping and the benefits from machining, OKAY has been able to provide a significant cost savings for its customers. Some examples include clip applier jaws, orthopedic trauma/cervical plates and various endoscopic/laparoscopic graspers and forceps.

More from Materials