Maritime Thermal Cameras promote safe navigation.
Press Release Summary: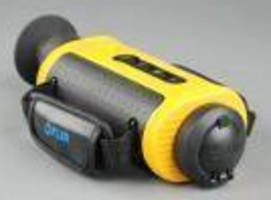 Featuring 320 x 240 thermal image resolution, First Mate XP and XP+ night vision cameras are suited for use as nighttime navigation aids on boats. Users will be able to see navigation hazards - channel markers, land, other boats, people - even when no light is present. While both cameras are optimized for environmental survivability and still image capture capability, XP+ additionally supports capture of live thermal video to removable SD card.
---
Original Press Release:

Flir Expands First Mate Handheld Thermal Camera Family



Low-cost thermal imaging camera is the ultimate tool for nighttime navigation

Portland, OR - FLIR Systems (NASDAQ: FLIR) announced the release of two new models of their popular First Mate line of handheld maritime thermal night vision cameras at the Miami International Boat Show. The new First Mate XP and XP+ feature improved 320 × 240 thermal image resolution, as well as expanded environmental survivability ratings and still image capture capability. The XP+ variant even offers users the ability to capture live thermal video to a removable SD card.

The perfect nighttime navigation aid for use on any recreational powerboat, yacht, or sailboat, First Mate cameras are also valuable tools for finding people in the water, providing higher image resolution - and better image detail - than other handheld thermal cameras at a fraction of the cost.

First Mate maritime thermal cameras give users the power to see navigation hazards like channel markers, land, other boats, and people in the water more clearly - and from farther away - than ever before, even in total darkness. Available for as little as $2,999, no boater can afford to be on the water after dark without the First Mate.

Unlike image intensified night vision binoculars and scopes, First Mate thermal night vision cameras make pictures from heat, not light, so they can see clearly without any light at all. With more maritime thermal cameras at sea around the globe than every other manufacturer combined, FLIR is the world's most trusted name in thermal imaging. First Mate uses the same core thermal night vision technology as FLIR's industry-leading Navigator II, Voyager II, and M-Series camera systems.

"Thermal imaging has become an indispensable tool for maritime navigation and safety," said Lou Rota, Vice President of Maritime Business Development at FLIR Systems. "Our new First Mate camera combines our industry-leading thermal cameras with our tested military technology to deliver the ultimate hand-held imager for recreational and commercial marine markets."

About FLIR Systems:
Pioneers in infrared technology, FLIR designs, manufactures, and supports thermal imaging systems and subsystems for industrial, scientific, government, commercial, and firefighting applications. With a 40-year history of infrared innovation, +100,000 systems in use worldwide, and development centers and sales offices in over 60 countries, FLIR is the world leader in thermal imaging technology. Visit the company's website at www.FLIR.com.

MSRP Pricing by Model Number:
HM-224: $2,999
HM-224 Pro: $3,999
HM-324 XP: $4,999
HM-324 XP+: $5,999

More from Material Handling & Storage