Fixed Dome IP Camera is suited for railway applications.
Press Release Summary: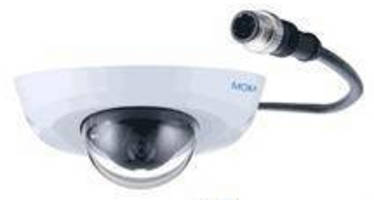 Tailored to needs of high-speed rolling stock, VPort 15-M12 network camera is compliant with EN50155 standards and can take digital videos at 1,280 x 960 pixels. Vandal-proof camera, rated to IP66, employs 1.3 megapixel sensor and supports dual video streams with MJPEG and MPEG-4 compression simultaneously. While M12 connector and PoE support facilitate installation, overall design supports mission-critical video surveillance in harsh environments.
---
Original Press Release:

Moxa Unveils VPort 15 EN50155 Compliant IP Camera for Railway Applications



Taipei, Taiwan-Moxa announces the release of the VPort 15-M12, a compact sized, fixed dome network camera designed for mission-critical video surveillance in harsh environments. This IP camera meets strict EMC, shock, vibration, and environmental requirements in compliance with EN50155 standards, which is essential for electronic equipment used in rolling stock applications. The VPort 15-M12 features a 1.3 megapixel sensor, dual video streams, an M12 connector, PoE (Power-over-Ethernet support), and an extended working temperature range. The VPort 15 camera delivers reliable mobile video surveillance that is tailored for high speed rolling stock.

Megapixel Resolution
The VPort has a 1/3.8-inch Sony progressive CMOS image sensor to offer a 1.3 megapixel resolution, which is 4 times the resolution of standard VGA with 640 x 480 pixels. This 1.3 Megapixel camera is able to take digital videos at 1280 x 960 pixels for conspicuous image details that are of high importance for high-security locations such as train stations, airports, banks, and casinos.

Dual Video Stream
The VPort 15 caters to various video surveillance requirements such as storage and remote client access, and can support MJPEG and MPEG-4 compression formats simultaneously. For different frame rates and resolution settings, customers can either select MJPEG format for a live-stream or select JPEG-4 for a recording stream to facilitate video transmission and storage through the network backbone to the control center.

M12 Reliable Ethernet Access
The built-in M12 connector provides a secure Ethernet connection against vibration and shock. Together with 802.3af PoE (Power over Ethernet), the VPort 15-M12 eliminates the need to set up power cables and outlets, and by doing so reduces the risks of power failures or Internet disconnections.

Extended Surveillance Solution
Compliant with EN50155 standards, the VPort15-M12 ensures highly reliable video captures, image processing, and video transmissions in tough vehicular conditions. The VPort 15-M12 is IP66-rated for protection against rain and dust, and the vandal proof IP camera also supports a wide operating temperature range of -25 to 55°C.

The VPort 15-M12 together with Moxa's full spectrum of Ethernet switches, video servers, and NVR application software delivers complete video surveillance solutions that are robust and reliable-perfect for rolling stock video surveillance and other mission-critical video surveillance in harsh environments.

Key features

Meets EN50155 criteria for rolling stock applications

Supports MPEG4 and MJPEG dual video streams simultaneously

Supports Power-over-Ethernet for less cabling and easy installation

Sturdy M12 Ethernet connectors for high vibration environments

-25 to 55°C operating temperature range

Free VPort SDK PLUS development kit

About MOXA
Moxa manufactures device networking products for industrial automation. Information about all Moxa products, which include industrial embedded computers, industrial Ethernet switches, serial device servers, multiport serial cards, embedded device servers, and remote I/O servers, is available on Moxa's corporate website at www.moxa.com. You may also contact Moxa directly by email at info@moxa.com, or by phoning +886-2-8919-1230.

Related