Radio Modem offers Internet access and Linux platform.
Press Release Summary: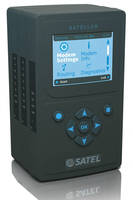 SATELLAR Digital System with TCP/IP-capabilities and Linux can run software applications as well as operating system, IP-router, and web configuration server. Different units can be combined to construct radio modem with functionalities for specific location; radio unit (basic building block) can be used to access RS-232-based devices or act as a radio repeater, while central unit, with TCP/IP-capabilities and Linux platform, can be added to locations where more functionality is needed.
---
Original Press Release:

SATEL Launches SATELLAR Digital System. The World´s First Radio Modem with Internet Access and a Linux Application Platform



SATEL, a leading manufacturer of radio modems for long range wireless data, today announced SATELLAR Digital System, a smart radio modem combining TCP/IP-functionalities, a Linux platform for customer specific applications, and a versatile modular structure. Whereas radio modems have conventionally been used to simply convey data - essentially replacing a cable in inconvenient locations - SATELLAR can do a lot more. The central unit, one of SATELLAR´s modular units, is essentially a computer with sufficient processing power and memory to run sophisticated software applications in addition to the operating system, IP-router, and web configuration server. Fewer devices are needed on site, which means that costs and complexity may be lowered without compromising functionality.

"Our radio modems have been reputable for their reliability to transfer data wirelessly in critical systems. Now we are able to go much further and provide an environment for developing the exactly right applications our customers need for their systems. Fewer devices are needed on site, which means that costs and complexity may be lowered without compromising functionality. At a wind power plant, for example, a SATELLAR network can monitor and control all wind turbines and allow an operator to adjust turbine settings from his office in a different part of the world," said Tuomas Pitkanen, CEO of SATEL.

Modularity is another aspect in which SATELLAR brings a paradigm shift to the radio modem industry. The SATELLAR digital system offers different units - building blocks - that can be combined to construct a radio modem with the right functionalities for the specific location in question. The radio unit, which is the basic building block, can alone be used to access RS-232-based devices, for example, or act as a radio repeater. The central unit, with its TCP/IP-capabilities and a Linux platform, can be added to locations where more functionality is useful.

Furthermore, it is possible to add standard or customer-specific expansion units - even after the initial deployment, as an update. Details on expansion units will be given by SATEL when SATELLAR is commercially available, i.e. in the second quarter of 2009.

"SATEL is very proud of SATELLAR. In addition to bringing new unforeseen features to the radio modem market, we have been able to increase the performance of radio itself, bringing radio modem performance to a completely new level," commented founder and board member Pekka Aura.

About SATEL

SATEL specializes in designing and manufacturing radio modems for long range wireless data communication. For over 20 years, the company´s cornerstones have been RF performance, reliability, and service. SATEL´s radio modems have proven their reliability in applications ranging from Mt Everest to nuclear power plants and from professional motor sports to runway telemetry at airports. The company is headquartered in Finland and has distributors in over 50 countries.

About radio modems

Radio modems communicate wirelessly with each other across a range of up to tens of kilometers. In addition to power, no infrastructure (base stations, satellites, etc) is required. Radio modems for both unlicensed and licensed frequency bands are available.

www.satel.com

SATEL North America L.L.C

200 Spangler Ave.

IL 60126

ELMHURST

LEIBOLD Maria

Phone : 1.800.292.9778

Fax : 1.630.832.7275

mleibold2@satelna.com

SATEL Oy, Meriniitynkatu 17, P.O.Box 142,

FI-24101 SALO,

FINLAND

Valter RONNHOLM

Phone : +358 2 777 7832

satellar@satel.com

More from Electrical Equipment & Systems