Waveform Digitizers are based on PCI Express.
Press Release Summary: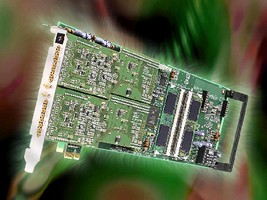 Using multiple 16-bit ADCs for true simultaneous sampling, UF2e-4600 Series is available with choice of maximum sampling rates from 200 kS/s to 3 MS/s and 2-, 4-, or 8-channel configurations. Cards are provided with 32 MSamples of signal memory, but can be expanded to 2 GSamples through onboard DIMM module. Signals can be recorded to card memory and then off loaded, or continuously streamed gap-free to PC host.
---
Original Press Release:

Strategic Test Announces World's First PCI Express Waveform Digitizers



Woburn, MA USA - May 29, 2007. Strategic Test, one of the world's leading suppliers of PC-based waveform digitizer and oscilloscope cards, has announced the availability of the world's first PCI Express based Waveform Digitizer boards.

"Strategic Test has always provided our customers with the highest performance and most versatile PC-based instruments available" says Bob Giblett, President of Strategic Test. "We are committed to immediately adopting new standards and giving our customers the widest choice. Today we offer more than 150 PCI, PXI and CompactPCI boards and this will increase with our new PCI Express products to more than 230 by the end of 2007."

There are twelve new Digitizer cards in the UF2e-4600 series. Using multiple 16-bit ADC's for true simultaneous sampling, the cards are available with a choice of maximum sampling rates from 200 kS/s to 3 MS/s and 2-, 4- or 8-channel configurations - enabling the user to select the most cost-effective solution. 32 MSamples of signal memory is provided standard, but can be expanded to 2 GSamples through a proprietary onboard DIMM module.

As with all UltraFast cards the signals can be recorded to card memory and then off loaded, or continuously streamed gap-free to the PC host.

In total, eight different hardware options will be available for each card:
o Onboard memory: 64, 128, 256, 512, 1024, 2048 or 4096 MegaBytes
o Multiple Recording (memory segmentation)
o Gated Sampling (sampling clock controlled by external TTL signal)
o Time Stamp (records time when trigger occurs)
o ABA dual time base
o Star Hub (synchronization of up to 5 or 16 cards, or 5 to 16 PC's)
o BaseXIO (adds 8 asynchronous digital I/O lines)
o Fast Digital Inputs (adds 2 or 4 synchronous digital inputs per analog input)

Strategic Test also provides the industry's most comprehensive software support with the following Software Development Kit's available:
Windows Vista and XP64, XP, 2000, NT and 98
Linux drivers for RedHat, Suse, Fedora and Debian
MATLAB
LabVIEW
Agilent-VEE
LabWindows/CVI
DASYLab

Prices start at $3190. The new digitizers are supplied with the free-of-charge SBench Oscilloscope software that allows user to measure and analyze without programming. SBench is available for both Windows and Linux.

Advantages of PCI Express for Test & Measurement
More information on the advantages of PCI Express over 66/33 MHz PCI can be found on Strategic Test's website:

http://www.strategic-test.com/library/

About Strategic Test
Strategic Test is a world leading supplier of PC instrument cards and has offices in the USA and Europe. The companies clients include global electronics, semiconductor, defense, telecommunications and medical instrument companies, government funded research labs and universities in five continents

The first high-speed measurement card for PC's was designed in 1989. Today the product range consists of more than 200 Oscilloscope/ Digitizer, Arbitrary Waveform Generator, high-speed Digital I/O and Digital Pattern Generator cards in the industry standard PCI Express, PCI, 3U PXI and 6U CompactPCI formats.

Each product can be individually configured from a choice of more than eight hardware options design to address the needs of specific applications. Software Development Kits are available for Microsoft Windows (Vista, XP64, XP, 2000, NT), Linux (Redhat, Debian, Suse, Fedora, Sarge), LabVIEW, MATLAB, LabWindows/CVI, DASYLab, Agilent-VEE and Excel.

All products are supplied with two year hardware warranty together with lifetime technical support and software updates.

For further information please contact:
Bob Giblett
President
Strategic Test Corporation
12 Alfred Street, Suite 300
Woburn, MA 01801-1915
United States
Tel: (617)621-0080
Fax: (617)621-1414
Email: [email protected]
http://www.strategic-test.com