Mega Pixel Video Camera can capture up to 150,000 fps.
Press Release Summary: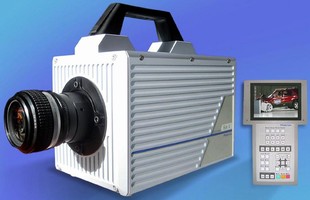 Employing CMOS sensor technology, Fastcam SA-1 performs detailed image capture with 5,000 full mega pixel resolution fps speed capability. It offers slow motion video imaging with true 12-bit resolution and 2 µsec global shuttering. Suited for high-speed imaging of fast-moving objects, camera comes in 8 and 16 Gb memory configurations with respective capacities of 6 and 12 sec @ 1,000 full fps. It supports IRIG/GPS inputs to meet time stamping and synchronization requirements.
---
Original Press Release:

Photron Introduces the World's Fastest High Speed Mega Pixel Video Camera



January 9, 2007- San Diego, CA - Photron, Inc., a global leader in high speed imaging systems and image analysis software, introduces the breakthrough Fastcam SA-1 Camera featuring 5,000 full mega pixel resolution frames per second. Photron's revolutionary CMOS sensor technology has resulted in a new, unprecedented high speed benchmark for slow motion video imaging with true 12-bit resolution and two-microsecond global shuttering. Light sensitivity and color fidelity are superior even to Photron's Emmy award-winning ultima APX and best selling ultima APX-RS cameras. The new camera's unsurpassed ease of operation permits expert high speed imaging of extremely fast-moving objects with minimal or no operator training.

Photron's advanced camera design offers two memory configurations to choose from, including 8GB featuring 6 seconds at 1,000 full frames per second (fps), and 16 GB with 12 seconds at 1,000 full fps. The high speed imager has a maximum speed at reduced resolution of 150,000 fps. Photron's new mega pixel Fastcam SA-1 supports IRIG/GPS inputs to meet precision time stamping and synchronization requirements. Full control via Gigabit Ethernet or remote control via the accompanying keypad with built-in LCD display offers great flexibility in high speed imaging tasks.

Lightweight and compact, the Fastcam SA-1 is DC-operated with SDI and RS-170 video outputs. An optional particle image velocimetry (PIV) facility is available to study the flow of gas in a wind-tunnel environment or to analyze flow in fluids. Other applications for this extremely high speed imaging system include missile and ballistics testing, R&D, vehicle impact analysis, sports and entertainment, industrial motion analysis and biomedical imaging.

Photron USA, Inc. (www.photron.com), founded in 1974, is a world supplier of photo-instrumentation, high speed image processing systems and photo optical technologies for the automotive, industrial manufacturing, film and television, medical and military markets. Products include standard and custom high resolution, high-speed cameras, software, and systems for R&D, commercial and defense-related motion image analysis applications.

More from Architectural & Civil Engineering Products