AC Motor Controllers and Drives
40% Reduction in Machining Times Achieved with Optidrive E3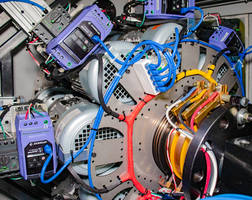 Machining times in a complex seven-station drilling unit have been reduced by more than 40 per cent after Optidrive E3 variable frequency drives (VFD) were introduced into the process.
Jafs Machines of Colombia produces a range of products for manufacturers of machined components. These include its Octo-Drilling Machine, a seven-station unit with an indexable turret.
The machine allows simultaneous machining of components via seven individually controlled spindles within the turret. In addition to drilling, some of the spindles tools need to thread components meaning reversible movement is also required.
"The spindles rotate individually on the turret powered by 1.5HP three-phase motors at 220v. But they have to rotate at different speeds, with stop/start, depending on the station and tool being used. This included being reversible for the process of threading components," said Juan Carlos Figueredo of Faunauto, a sales partner of Invertek Drives in Latin America.
"The difficulty with the process was that the indexable turret and its movement was not easy to connect to the control of the drives through individual wiring."
Fanauto worked in partnership with Inginieria OL to develop a solution.
"We needed to use eight Optidrive VFDs to accurately control the speed of the spindles and the indexing rotation of the turret. These were connected through a Modbus RS-485 communications network in order to avoid the physical wiring of the drives individually, which would have been impossible through the movement of the turret.
"Using this type of connection means only two signals are sent to the eight drives (RS-485 + and RS-485 -) by means of slip rings. The E3 drives are configured to be controlled through Modbus communication, via a PLC."
The Optidrive E3, 2HP at 220v, Frame Size 1, IP20 was used.
Juan said Jafs Machines were impressed at how the drives were able to not only control the multiple motors on the moving turret but helped increase machining times by 40 per cent.
"We managed to achieve excellent response speed which also allowed changes in the rotation of the threading stations without damaging the tapping tool. The response in speed, on and off, and change of rotation met all the requirements of the process," he said.
A spokesperson for Jafs Machines said: "The Octo-Unit Drilling Machine is a key product in our drive into the US market. BY ensuring reliability and increasing machining times by 40 per cent means we have a product that is much more favourable compared to our competitors.
"Our customers cannot only produce more products in a shorter time, but they know they also have a product that is reliable, cost-effective and, more importantly, providing greater opportunities for profit."
More details of the Octo-Unit Drilling Machine can be found at www.jafs.com.co.
Details of the Optidrive E3 and the complete Optidrive VFD range and associated drives technology can be found at invertekdrives.com.
For More Media Information, Contact:
Owain Betts, PR, Media and Communications
t: +44 (0)1938 558 253
m: +44 (0)7787 437 052
e: Owain.Betts@invertek.co.uk
w: www.invertekdrives.com
More from Non-Industrial Products