4-Way Part Locating with Welker Floating Pin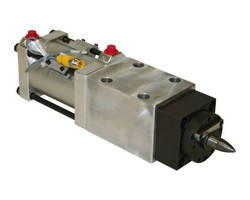 The Welker Floating Pin offers a unique opportunity to use an unlimited number of 4-way pins for part locating, significantly reducing part hole damage and pin wear. Parts are loaded when the pneumatic actuator is engaged and pin is centered and rigid. When the actuator is released the pin is allowed to radially float up to 3mm, and rotate up to 25 degrees. Lightweight and compact, the Floating Pin is available in two sizes and accommodates standard NAAMS pins, geo backups, and datum blocks. Custom pins and rests can be attached to unit's flat mount. Applications include bind-free part removal from geo end effectors and fixtures. Ideal for use in aluminum welding where there is considerable part movement. Floating Pins are ten times more repeatable over 3 million cycles than any retracting pin.



For more info and videos visit http://www.welkerproducts.com/floating_pins.php



For more than 80 years, Welker Engineered Products has helped manufacturers achieve their objectives of performance and reliability. Serving the automotive and transportation, industrial, agricultural, and special machine industries among others, Welker prides itself in its ability to assess the application needs of its customers and provide innovative solutions. Long recognized for expertise in self-lubricating plane bearing technologies, over the last 20 years Welker has developed many "Best-in-Class" automation components. These products complement Welker's plane bearing technologies by providing maintenance free solutions for today's flexible manufacturing environment. Welker produces standard components for locating, clamping, sliding, lifting, ejecting, transporting, stopping and rotating applications.



More from Electronic Components & Devices