3D Scanning System performs point-to-point inspection.
Press Release Summary: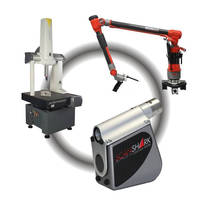 With TESA kinematic joint that is shared between all ROMER scanning arms and TESASTAR-m equipped bridge machines, CMM-Arm-Scanner System performs reverse engineering and 3D point cloud gathering tasks. Shared scanner system package comes complete with Brown and Sharpe Global Performance bridge CMM, ROMER INFINITE 2.0 7-axis arm, ScanShark V4ix probe, complete cabling, software, and control boxes for each system, plus application software and computer for each system.
---
Original Press Release:

Hexagon Metrology Introduces CMM-Arm-Scanner System



New Combination System Leverages Multiple Plaforms into One Combined 3D Scanning System Package

North Kingstown, RI - June 11, 2009 - Hexagon Metrology, Inc, announces the immediate availability of a combination laser scanning metrology package, which combines a Brown & Sharpe Global Performance bridge CMM with a ROMER INFINITE 2.0 7-axis portable arm with a ScanShark V4ix laser scanner that is plug-and-play swappable between both systems. The key to the intercompatibility is the TESA kinematic joint that is shared between all ROMER scanning arms and TESASTAR-m equipped bridge machines. Companies can invest in a single scanner that can be leveraged to the strengths of two different types of measuring platforms.

"This package leverages several existing Hexagon brands and technologies into one complete package offering," said Eric Bennett, Product Manager for bridge products. "There are definitely times when scanning with an arm is the fastest and most effective technique, for example, when the part is large and must be measured in place. Conversely, if you have lots of smaller identical products you would like to scan repeatedly, then it is useful to set up a program to scan batches of them automatically. With this package, you don't have to choose between one or the other."

Dave Armstrong, Product Manager for portable products, added, "There was a time when the substantial investment in a laser scanner meant it came down to buying either the bridge machine or the arm. With our offering, you don't have to choose, you can have both. Other systems where the scanner is integrated or the connectors are incompatible simply don't have this flexibility."

Shared systems can do double duty as inspection systems as well as performing reverse engineering and 3D point cloud gathering tasks Either machine is also capable of performing point-to-point inspection on its own without the scanner being attached, so both machines can be used simultaneously, regardless of which one happens to be using the laser scanner.

A shared scanner package comes complete with a Brown & Sharpe Global Performance bridge CMM (there are nine standard sizes available), a ROMER INFINITE 2.0 7-axis arm (there are six standard sizes available), a ScanShark V4ix probe, complete cabling, software and control boxes for each system, plus application software and a computer for each system. The packages are available for immediate shipment.

Hexagon Metrology

Hexagon Metrology is part of the Hexagon AB Group and includes leading metrology brands such as Brown & Sharpe, CE Johansson, CimCore, CogniTens, DEA, Leica Geosystems (Metrology Division), Leitz, m&h, PC-DMIS, QUINDOS, ROMER, Sheffield and TESA. Hexagon Metrology brands represent an unrivaled global installed base of millions of CMMs, portable measuring systems and handheld instruments, and tens of thousands of metrology software licenses. Hexagon Metrology empowers its customers to fully control manufacturing processes that rely on dimensional precision, ensuring that products manufactured precisely conform to the original product design. The company offering of machines, systems and software is complemented by a wide range of product support, aftermarket and value-added services.

More information can be found at www.HexagonMetrology.us

Hexagon Marketing Contact:

Bill Fetter, Hexagon Metrology, Inc., (920) 906-7514, william.fetter@hexagonmetrology.com

More from Cleaning Products & Equipment