3D Scanning Advances Design of Surgical Products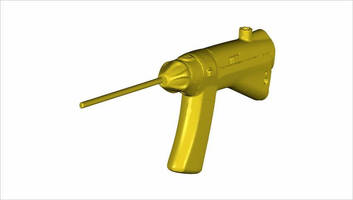 (Coppell, TX; April 2015) Two major medical developers recently utilized NVision Inc.'s 3D non-contact laser scanning and engineering expertise to improve the design of their surgical products. In each case, NVision laser-scanned and quickly delivered to the manufacturer a highly accurate 3D CAD model, which was used to redesign the product.



In the field of breast augmentation surgery, mandrels are molds that are used to create implants of specific shapes and sizes, such as a teardrop or a round contour. A major developer of breast implants was lacking the CAD files for a series of mandrels with highly complex curvatures and contacted NVision to scan and create 3D CAD files of the existing mandrels. "Without the CAD files for the mandrels, it was nearly impossible for the manufacturer to reproduce or redesign the original implants," says Steve Kersen, President of NVision.



The manufacturer sent NVision the existing mandrels, which consisted of about 10 different shapes and sizes. Company engineers then set to work digitizing the full geometry of each mandrel.



For a project of this nature, involving multiple and complex curvatures, NVision utilized its own HandHeld 3D laser scanner, which is capable of capturing 60,000 separate measurements per second and is accurate to within +/- one-thousandth of an inch. "The HandHeld Scanner is also highly versatile and capable of obtaining the dimensions of objects of almost any size or shape - making it ideally suited for this type of application," says Kersen.



Using the HandHeld Scanner, it took NVision technicians about 30 minutes to scan each mandrel, followed by a couple of days to develop the related 3D CAD model. Creating CAD models of such highly complex curvatures provided technicians with some unique challenges. During scanning, they needed to "fit together," or blend, surfaces of very different shapes and planar directions. "We had to balance the accuracy of the scan with the blending of completely different surface curvatures and geometries present in each mandrel," says Kersen. In just 10 days, however, NVision was able to deliver finished 3D CAD models of all the mandrels to the manufacturer.



In another medical application, a surgical equipment manufacturer asked NVision to provide a 3D CAD file of a multidebrider, a rotary cutting tool often used in minimally invasive ear, nose and throat (ENT) surgeries. A multidebrider removes (and then sucks out) unwanted tissue and foreign matter from the head and neck areas, including the sinuses and nasal passages. The device generally consists of a rotating tube configuration used to cut and remove material, which is mounted on a handpiece that is used by the physician to control the actions of the cutting tube.



"The manufacturer wanted to develop a new positioning device for the tool," says Kersen. "It needed a 3D CAD file of the existing multidebrider in order to design the new positioning device, which would attach to the handpiece."



The manufacturer spoke with several major companies in the industry and chose NVision for the job based on the company's successful 25-year history. The manufacturer ultimately felt more confident working with NVision because of the experience and professionalism conveyed during the initial meeting.



The manufacturer provided the multidebrider to NVision, which then proceeded to scan the equipment in its entirety - from the tip of the cutting tube to the hand piece. NVision again used its HandHeld scanner, its technician capturing the geometry of the multidebrider in about one hour.



"We provided the manufacturer with a 3D CAD file of its current multidebrider, which it can now use to develop a new positioning device," says Kersen. "Without this highly accurate template from which to work, the design of the positioning device would have been much more difficult and expensive. Fortunately, ENT patients will soon benefit from the new positioning device, through safer and more efficient multidebrider surgeries."



For more information, contact NVision, Inc., 440 Wrangler Dr, Suite 200, Coppell, TX 75019. Ph: 972.393.8000, Fax: 972.393.8002. E-mail: sales@nvision3d.com. Visit NVision's Web site at www.nvision3d.com/.



About NVision

NVision, Inc. (http://www.nvision3d.com) was established in 1990 with one goal in mind: to provide customers with the highest accuracy non-contact optical measurement systems and services for Reverse Engineering and Inspection. Focusing our expertise on the aerospace, power generation, and oil/gas industries, NVision provides both contract scanning services and systems sales to companies throughout North America. Its elite team of engineers provides customers with an unmatchable level of experience and is able to advise and assist with the most difficult engineering challenges. NVision's clients include industry leaders such as Alstom, Boeing, GE, Lockheed, Lear, NASA, Porsche, Raytheon, Siemens, Toyota, and every branch of the U.S. military.

More from Fluid & Gas Flow Equipment