3D Scanner has measurement rates to 30,000 Hz.
Press Release Summary: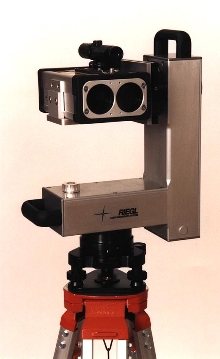 LPM Series scanners provide flexibility for 3D measurement, inspection, and modeling. Options include hemispheric scanning, automated or manual operation, reflectorless ranges to 2500 m, accuracy in millimeters, and 3D data acquisition software package. Operable from laptop PC, Laser Profile Measuring System incorporates various laser distance LD90-VHS series distance meters, pan and tilt mount PTM98, and 3D-RiScan software.
---
Original Press Release:
New Series Of 3D Scanners Provides Unprecedented Flexibility For 3D Measurement, Inspection And Modeling

ORLANDO, Florida --- A new line of 3D scanners providing unprecedented flexibility for 3D measurement, inspection and modeling has been introduced by Riegl USA of Orlando, FL. The LPM series 3D scanners provides the user with the sophisticated advances of Riegl laser measuring technology combined with a robust yet lightweight and easy to use design to provide maximum efficiency for use in demanding applications.

Options include hemispheric scanning, automated or manual operation, reflectorless ranges to 2500 meters, accuracy in the millimeters and a comprehensive 3D data acquisition software package operable from a laptop PC.

The multi-purpose LPM-Series (Laser Profile Measuring System) is a 3D data collection system that enables a single operator to quickly measure the relative location of any object for various applications within seconds. The complete stand alone system incorporates various Riegl laser distance LD90-VHS series distance meters for high accuracy (1 mm resolution), range and accuracy flexibility and long range (2,500 meters), the pan and tilt mount PTM98, and industry standard software 3D-RiScan, 3D data acquisition visualization and analysis, which runs on Win 95, 98, NT and 2000 platforms.

Operation is quick and easy. The LPM-VHS uses reliable semiconductor-laser rangefinder technology and time-of-flight measurement principle to provide quick accurate measurement data.

The LPM-VHS calculates the distance to the object based on the time taken for the reflected light to return and displays information.

For repeatable results, the LPM-VHS's high-speed rangefinder uses short high-energy light pulses providing excellent interference immunity for fast measurement rates as high as 30,000 Hz. This also allows measurements to be taken on almost any surface regardless of the incident beam angle or surface characteristics.

The PTM98 pan and tilt mount serves to position the distance meter automatically (and, if desired, manually) in two axes. This reduces operator-induced errors and assures a high accuracy rate.

The rangefinder's narrow measurement beam with very low divergence also provides excellent spatial resolution. In addition, measurements are unaffected by the temperature of the material surface of temperature gradients in the medium between the sensor and the target surface.

Advantages of using the LPM-VHS over traditional survey or photogrammetric methods include: shorter project cycle times, better quality results, improved safety during data capture and data capture that doesn't interfere with ongoing construction and operations activities.

COMMON APPLICATIONS

The LPM-VHS is designed for use in surveying, engineering, construction, and operations & maintenance activities in the manufacturing plant and civil/survey markets. With it's fast measurement rate, the unit makes taking multiple distance readings exceptionally quick. Since the system only requires one operator, preparation and data collection is simplified.

Specific applications include site and engineering surveys, as-builts of plants facilities, profiles, volumes, area calculations, topo and detail surveys including interior room measurements for plan evaluation and mapping of facades, architectural monuments and ruins, fabrication and construction inspection and object modeling.

Both the LD90-3100VHS(or LD90-3300VHS) and the PTM98 are integrated in robust, dust and splash-water proof housings for use in highly demanding applications and harsh weather conditions.

The unit has modest power requirements such that a 12VDC portable battery is sufficient to provide the necessary power for normal operation. Accessories include a carrying case, tripod stand, adjustable tribrach and tripod star for smooth services.
More from Construction Equipment and Supplies