3D Optical Surface Profiler suits wide range of applications.
Press Release Summary: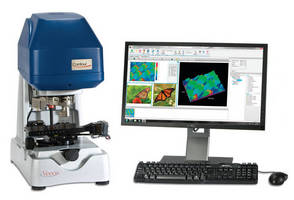 Based on white light interferometry (WLI) technology, ContourGT(TM) Surface Metrology Product Family addresses range of production QA/QC and R&D precision machining and manufacturing applications within high brightness LED, solar, ophthalmic, semiconductor, medical device, and academic research markets. High brightness dual-LED illumination facilitates precision, non-contact, 3D surface metrology, while Vision64 operating and analysis software provides user-level-customization capabilities.
---
Original Press Release:

Veeco Instruments Introduces ContourGT Surface Metrology Product Family



Easy-to-Use, Non-Contact, 3D Optical Surface Profilers Deliver up to 10x Throughput Improvements

Tucson, AZ, - Veeco Instruments Inc. (Nasdaq: VECO), a leading global provider of precision metrology solutions for scientific and industrial markets, today announced the ContourGT(TM) Surface Metrology Product Family, Veeco's 10th generation of precision, non-contact, 3D optical surface profilers that delivers up to 10x capacity and throughput improvements over other systems on demanding surface measurements and analyses, enabling new levels of efficiency and capability. Based on Veeco's industry-leading white light interferometry (WLI) technology and designed to complement Veeco's current NT9000(TM) Series of profilers, the ContourGT Family includes significant improvements in measurement hardware, compute platform, operating and analysis software and user interface to provide the industry's most advanced and easiest-to-use family of non-contact 3D optical surface profilers.

The ContourGT Family is optimized to address a wide range of advanced production QA/QC and R&D precision machining and manufacturing applications within the high brightness LED, solar, ophthalmic, semiconductor, medical device and academic research markets.

"The ContourGT Family elevates Veeco's WLI platform to a new level of excellence and productivity," said Mark R. Munch, Ph.D, Executive Vice President, Veeco Metrology & Instrumentation. "These profilers deliver the highest quality results with an extremely intuitive software workflow to enable greater measurement throughput and faster access to critical measurement data. We believe the ContourGT platform will help our customers increase yield while decreasing their manufacturing costs."

Ross Q. Smith, Vice President & General Manager, Veeco Metrology & Instrumentation, added, "With industry-leading resolution and signal-to-noise ratio, combined with its new compute platform, Vision64(TM) software and user interface, the ContourGT Family provides a new paradigm for efficiency in production and R&D surface metrology applications. Plus, its modular design and enhanced control logic that improves system reliability allows Veeco to offer a longer standard warranty for the ContourGT products."

About ContourGT

The ContourGT Family features patented, higher brightness dual-LED illumination that, when combined with the system's superior vertical resolution, greatly improves sensitivity and stability and enables precision non-contact 3D surface metrology in difficult applications and environments that are challenging for other WLI-based systems. The ContourGT Family also features new Veeco-developed Vision64 operating and analysis software and the industry's most intuitive, modular user interface that provides user-level-customization capabilities for the widest possible range of surface profiling metrology applications.

For more ContourGT-related information or to schedule a demo, please visit www.veeco.com/ContourGT, email metrologyinfo@veeco.com, or call +1 (520) 741-1044.

About Veeco

Veeco Instruments Inc. manufactures enabling solutions for customers in the HB-LED, solar, data storage, semiconductor, scientific research and industrial markets. We have leading technology positions in our three businesses: LED & Solar Process Equipment, Data Storage Process Equipment, and Metrology Instruments. Veeco's manufacturing and engineering facilities are located in New York, New Jersey, California, Colorado, Arizona, Minnesota and Massachusetts. Global sales and service offices are located throughout the U.S., Europe, Japan and APAC. www.veeco.com

Veeco Instruments Inc.,
2650 East Elvira Road,
Tucson, AZ 85756,
Tel 520-741-1044,
Fax 520-294-1799

More from Fasteners & Hardware