Additive Manufacturing Systems
3D Digital Dental Acquires Objet 3D Printer to Start 3D Model Service Bureau for Dental Clients Across South Africa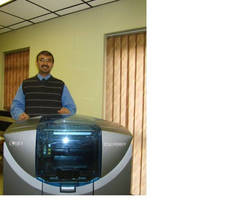 REHOVOT, Israel- Objet Ltd ., the innovation leader in 3D printing for rapid prototyping and additive manufacturing, announced today that the Objet Eden260V is the printer of choice for new South African company 3D Digital Dental. Objet's 3D printing systems can provide the dental profession and their patient's access to cutting edge technology for rapidly manufacturing dental requirements, such as stone models and surgical guides 3D printed in bio-compatible material. The Objet Eden260V was named Dental Lab Products Magazine's "Best of the Best Products" list for 2011.

Avi Cohen, Head of Medical Solutions at Objet, explains: "3D Digital Dental will provide a 3D print bureau service for dentists needing to print models for customers.

Dental labs who are digital with CAD/CAM but require models for end process and final checking prior to shipping to their dentists will also derive benefit from this bureau."

3D Digital Dental, based in Rosebank, Johannesburg, is the brainchild of Dr. Dharmesh Mistry, a practicing orthodontist. The company will provide a model printing service to dental technicians and dentists who need models for crowns and bridges. In addition, the Objet 3D Printer will be used to create orthodontic appliances, retainers and removal appliances.

"By having the Objet 3D Printer in-house, we will not only reduce time by eliminating the need to create plaster models, but will free up time to focus on more important tasks involving treatment planning," says Dr. Mistry. "In addition to traditional uses, we will also be able to fabricate surgical stents and models in bio compatible material, which can be used for training purposes in implant courses, amongst others. We are very excited about this purchase and look forward to reaping the rewards in a very short space of time

· not only from a financial perspective but also from time saved, which increases productivity and profitability."

3D Digital Dental customers are not limited to dentists and orthodontists already practicing: "Dental and Medical schools will also benefit as they can now create cost effective models for their educational courses," Objet's Head of Medical Solutions, Avi Cohen, says, "not to mention the field of Craniofacial Surgery, which will benefit from being able to create models in order to treatment plan, teach and train students how to perform procedures or generate models from CT scans for surgical planning."

"With this purchase of our first 3D Printer we aim to be a partner for the dental and medical industries," Dr. Mistry adds. "In addition we are well positioned to service requirements into sub Saharan Africa as well. Our ultimate goal is to expand in the future and purchase more machines to best serve the industry's burgeoning requirements."

For more information about Objet digital dentistry solutions, visit www.objetdental.com

To contact Objet's local distributor for South Africa, please email Demaplastech PTY at: carmen@demaplastech.co.za

About Objet

Objet Ltd. is a leading provider of high quality, cost effective inkjet-based 3D printing systems and materials. A global company, Objet has offices in North America, Europe, Japan, China, Hong Kong, and India.

Objet's 3D printing systems and 3D printing materials are ideal for any company involved in the manufacture or design of physical products using 3D software or other 3D content. Companies using Objet's solutions can be typically found in sectors [http://www.objet.com/INDUSTRIES ] such as consumer goods & electronics, aerospace & defense, automotive, education, dental, medical and medical devices, architecture, industrial machinery, footwear, sporting goods, toys and service bureaus.

Founded in 1998, the company has thousands of customers worldwide including a substantial share of the relevant Fortune 100 and Fortune 500. Its award-winning technology (13 awards in 8 years) is based upon over 110 patents and patent pending inventions.

Objet's advanced 3D printing systems and range of over 100materials enable professionals to build prototypes that accurately simulate the true look, feel and function of an end-product, even complex, assembled goods. The Objet Connex line of multi-material 3D printers features the world's only technology to simultaneously jet 2 materials. With this, users can print many different materials into a single part and print various mixed parts on the same build tray. Users can also create advanced composite materials, or Digital Materials featuring unique mechanical and thermal properties. Objet's range of over 1003D printing materials simulate properties ranging from rigid to rubber-like ,transparent to opaque and standard to ABS-grade engineering plastics ,with a large number of in-between shore grades and shades.

Objet's 3D printers are available in a range of form-factors, from cost-effective desktop 3D printers ideal for entry-level professionals all the way to industrial-scale multi-material machines for front-line designers and top manufacturers. Objet's 3D printers feature the industry's highest-resolution 3D printing quality, based on 16-micron (0.0006 in.) super-thin layering, wide material versatility, office friendliness and ease of operation.

For more information, visit us at www.objet.com, and for more about 3D printing industry-related news, business issues and trends, read the Objet blog[http://blog.objet.com ].

Objet Media Contact

USA

Todd Graff

Conover Tuttle Pace

Tel. +1-617-412-4000

Email. tgraff@ctpboston.com

Korea

Jihyun Lee

The Hoffman Agency Korea

Tel. +82-10-3408-1609

Email. jhlee@hoffman.com

Brazil

Tatiana Fonseca

307 Nova Cidade, Sao Paulo

Tel: +55-11-3846-9981

Email: tatiana@gadcom.com.br

Europe

Claire Russell-Jones

UK Bespoke

Tel: +44-1737-215200

E-mail. claire@bespoke.co.uk

Japan

Edelman KK Japan

Mr. Kiyomitsu Nakata

Tel. +81-03-6858-7711

Email.objetjp@edelman.com

Mexico

Patricia Tawil

IDESA

Tel. +52-55-5253-9670

Email. ptawil@idesap.com

Objet

Arita Mattsoff

Objet

Tel. +972-(0)74-745-4000

Email. arita@objet.com

Asia Pacific

The Hoffman Agency AP

Jenny Chan

T: +86-3-2231-8101

jchan@hoffman.com

South Africa

Alison McDonald

PR Connections

Tel. +27-(0)11-468-1192

Email. alison@pr.co.za

Objet Ltd.

More from Communication Systems & Equipment